Play-by-Play Broadcaster Matt Murphy Talks the G-League Bubble, Radio vs. TV Broadcasting, and More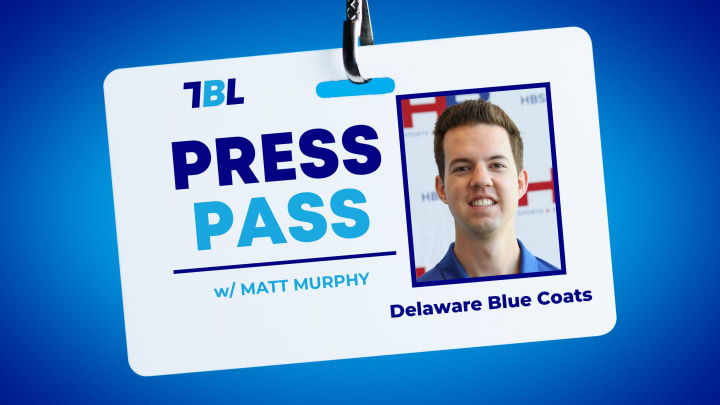 Matt Murphy, PBP Broadcaster For the Delaware Blue Coats /
Matt Murphy is the youngest play-by-play broadcaster in the G-League, the man on the call for the Delaware Blue Coats since 2018. He came on the Press Pass Podcast to talk about the life of a PBP announcer, life in the G-League bubble this year, how he studies film of others in his profession, the importance of preparation, and the legacy of Fordham University in sports media.
Listen to the full podcast below, or download the full episode and subscribe to the Press Pass Podcast on Spotify, Apple, or Google Podcasts.
PREVIOUS EPISODES OF THE PRESS PASS PODCAST
Stephen Cannella, Sports Illustrated... Jeremy Schapp, ESPN...Dom Cosentino, theScore...Erik Horne, The Athletic...Adrian Wojnarowski, ESPN... Jeopardy championKara Spak... Adam Amin, Fox Sports ...Andrew Marchand, New York Post ... Nicki Jhabvala, Washington Post ... Nicole Yang, Boston Globe ...Chris Cotillo, MassLive ... Trevor Lane, Lakers Nation ... Mark Carman, Fansided ... Will Guillory, The Athletic ... Keith Law, The Athletic ... Maddy Glab, Buffalo Bills ... Greg Moore, Arizona Republic ... Brandon Tierney, CBS Sports ... Todd Archer, ESPN ... Dan Kurtz, MyKBO ... Matt Miller, Bleacher Report ... Armando Salguero, Miami Herald ... Vic Tafur, The Athletic ... Robert Seidman, Sports TV Ratings ... Brian Anderson, Turner Sports ... Mike Reiss, ESPN ... Chad Finn, Boston Globe ... Keith Smith, Yahoo! Sports ... Ethan Strauss, The Athletic ... Kyle Neubeck, PhillyVoice ... Jenna Laine, ESPN ... Yaron Weitzman, Bleacher Report ... Greg Auman, The Athletic ... Mo Dakhil, Bleacher Report/The Athletic ... Dave Clark, Cincinnati Enquirer ... Michael Pina, SB Nation ... Arif Hasan, The Athletic ... Max Adler, Golf Digest ... Jay King, The Athletic ... Mirin Fader, Bleacher Report ... Charles McDonald, New York Daily News ... Haley O'Shaughnessy, The Ringer ... Sarah Spencer, Atlanta Journal-Constitution ... Jovan Buha, The Athletic ... Shea Serrano, The Ringer ... Daniel Oyefusi, Baltimore Sun ... Ahmed Fareed, NBC Sports
PODCASTS FROM THE BIG LEAD
Best of 7: Kyle Koster and Ryan Phillips rank the top seven of a topic, exploring sports, movies, music and all aspects of pop culture.
The Kyle Koster Show: The Big Lead presents an original narrative series from a brain made entirely too smooth from decades of covering the convergence of sports and pop culture. Managing editor Kyle Koster and his friend named Kevin set out each episode to discover the answer to the big questions no one is asking — with the help of the most random names in the media.