Chris Cotillo From MassLive Talks Potential Red Sox Managers, 2020 MLB Draft, and His Journalism Workshop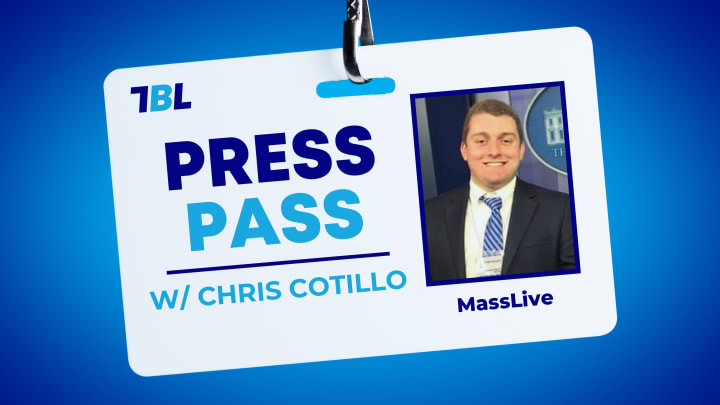 Chris Cotillo is the Boston Red Sox beat writer for MassLive. He joined the Press Pass Podcast to discuss how he got his start in the business, going all the way back to his high school days when he was a teenage MLB insider breaking news on Twitter. Chris profiles his journey from there to working his way up the SB Nation rankings and finally ending up at MassLive as a proper beat writer covering the Red Sox. He also discussed his latest project, an online journalism workshop for anybody and everybody who is interested in getting into the sports media industry.
Chris also touches upon the no-good, very bad 2020 season for the Red Sox, how realistic an Alex Cora return might be, who they could target for their open managerial position, where expectations should be for the 2021 season, what the draft will look like, his favorite baseball memory, and more. Listen to the full episode below or follow the link here.
PREVIOUS PRESS PASS PODCASTS
Trevor Lane, Lakers Nation... Mark Carman, Fansided...Will Guillory,The Athletic...Keith Law, The Athletic ... Maddy Glab, Buffalo Bills ... Greg Moore, Arizona Republic ... Brandon Tierney, CBS Sports ... Todd Archer, ESPN ... Dan Kurtz, MyKBO ... Matt Miller, Bleacher Report ... Armando Salguero, Miami Herald ...Vic Tafur, The Athletic ... Robert Seidman, Sports TV Ratings ... Brian Anderson, Turner Sports ... Mike Reiss, ESPN ... Chad Finn, Boston Globe ... Keith Smith, Yahoo! Sports ... Ethan Strauss, The Athletic ... Kyle Neubeck, PhillyVoice ... Jenna Laine, ESPN ... Yaron Weitzman, Bleacher Report ... Greg Auman, The Athletic ... Mo Dakhil, Bleacher Report/The Athletic ... Dave Clark, Cincinnati Enquirer ... Michael Pina, SB Nation ... Arif Hasan, The Athletic ... Max Adler, Golf Digest ... Jay King, The Athletic ... Mirin Fader, Bleacher Report ... Charles McDonald, New York Daily News ... Haley O'Shaughnessy, The Ringer ... Sarah Spencer, Atlanta Journal-Constitution ... Jovan Buha, The Athletic ... Shea Serrano, The Ringer ... Daniel Oyefusi, Baltimore Sun ... Ahmed Fareed, NBC Sports