Sports Media Nerding Out with Andrew Marchand of the New York Post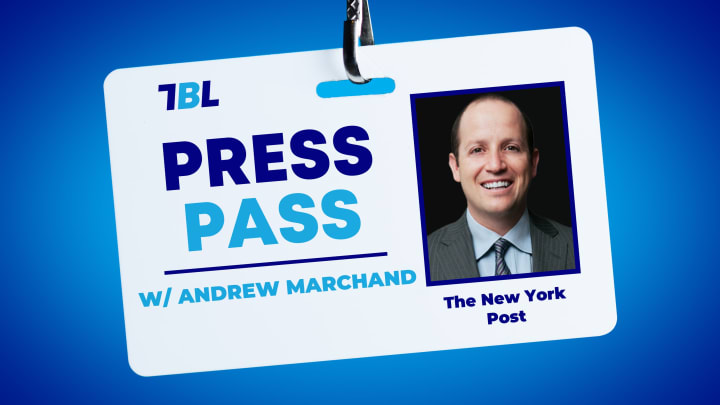 Andrew Marchand has covered the New York Yankees. He's covered the biggest names in sports media, routinely breaking major stories.. He's been frequently aggregated by The Big Lead. These are the three dreams every little kid has.
We spoke about all of these things and more for the latest Press Pass podcast. Find out how Phil Mushnick treated him when he was younger. Learn about his process for collecting scoops and if he still gets a rush. Assess for yourself if he's achieved a good work-life balance.
Definitely a conversation aimed at media nerds, though other, cooler people may enjoy it as well.
PREVIOUS PRESS PASS PODCASTS
Nicki Jhabvala, Washington Post... Nicole Yang, Boston Globe...Chris Cotillo,MassLive...Trevor Lane,Lakers Nation...Mark Carman, Fansided...Will Guillory,The Athletic...Keith Law, The Athletic ... Maddy Glab, Buffalo Bills ... Greg Moore, Arizona Republic ... Brandon Tierney, CBS Sports ... Todd Archer, ESPN ... Dan Kurtz, MyKBO ... Matt Miller, Bleacher Report ... Armando Salguero, Miami Herald ...Vic Tafur, The Athletic ... Robert Seidman, Sports TV Ratings ... Brian Anderson, Turner Sports ... Mike Reiss, ESPN ... Chad Finn, Boston Globe ... Keith Smith, Yahoo! Sports ... Ethan Strauss, The Athletic ... Kyle Neubeck, PhillyVoice ... Jenna Laine, ESPN ... Yaron Weitzman, Bleacher Report ... Greg Auman, The Athletic ... Mo Dakhil, Bleacher Report/The Athletic ... Dave Clark, Cincinnati Enquirer ... Michael Pina, SB Nation ... Arif Hasan, The Athletic ... Max Adler, Golf Digest ... Jay King, The Athletic ... Mirin Fader, Bleacher Report ... Charles McDonald, New York Daily News ... Haley O'Shaughnessy, The Ringer ... Sarah Spencer, Atlanta Journal-Constitution ... Jovan Buha, The Athletic ... Shea Serrano, The Ringer ... Daniel Oyefusi, Baltimore Sun ... Ahmed Fareed, NBC Sports