Nicole Yang of the Boston Globe Talks Cam Newton in New England, Her First Days as Patriots Beat Writer, and More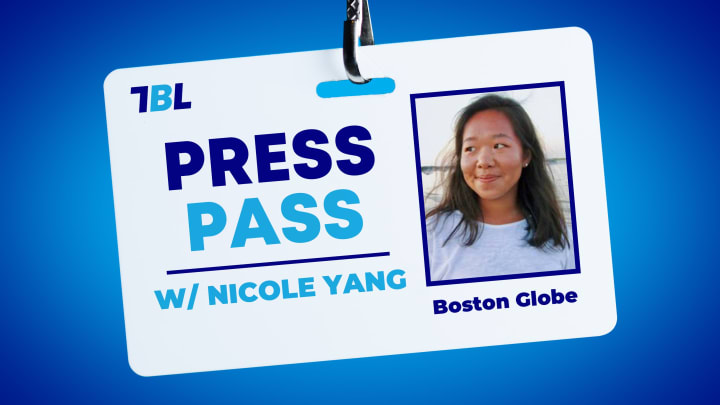 Nicole Yang is one of the New England Patriots beat writers for the Boston Globe. She joined the Press Pass Podcast to discuss how she got there, starting from a co-op internship on Morrissey Boulevard to the general assignment desk to arguably the biggest beat in Boston. Only two weeks into her new gig, Nicole discusses how the early days have been, what it's like working for the Globe, and working alongside Ben Volin and Jim McBride.
Nicole also touches upon the first few weeks of the Patriots season, how Cam Newton has looked in a Pats uniform, the likelihood of him staying past this year, what games on the schedule she's most excited for, what position this team might be in come season's end, why she played Settlers of Catan with Boston Celtics forward Grant Williams, and more. Listen to the full episode below or follow the link here.
PREVIOUS PRESS PASS PODCASTS
Chris Cotillo, MassLive... Trevor Lane, Lakers Nation... Mark Carman, Fansided...Will Guillory,The Athletic...Keith Law, The Athletic ... Maddy Glab, Buffalo Bills ... Greg Moore, Arizona Republic ... Brandon Tierney, CBS Sports ... Todd Archer, ESPN ... Dan Kurtz, MyKBO ... Matt Miller, Bleacher Report ... Armando Salguero, Miami Herald ...Vic Tafur, The Athletic ... Robert Seidman, Sports TV Ratings ... Brian Anderson, Turner Sports ... Mike Reiss, ESPN ... Chad Finn, Boston Globe ... Keith Smith, Yahoo! Sports ... Ethan Strauss, The Athletic ... Kyle Neubeck, PhillyVoice ... Jenna Laine, ESPN ... Yaron Weitzman, Bleacher Report ... Greg Auman, The Athletic ... Mo Dakhil, Bleacher Report/The Athletic ... Dave Clark, Cincinnati Enquirer ... Michael Pina, SB Nation ... Arif Hasan, The Athletic ... Max Adler, Golf Digest ... Jay King, The Athletic ... Mirin Fader, Bleacher Report ... Charles McDonald, New York Daily News ... Haley O'Shaughnessy, The Ringer ... Sarah Spencer, Atlanta Journal-Constitution ... Jovan Buha, The Athletic ... Shea Serrano, The Ringer ... Daniel Oyefusi, Baltimore Sun ... Ahmed Fareed, NBC Sports