Erik Horne of The Athletic Talks the Life of Writer vs. Editor, Subscription Models in Sports Media, and More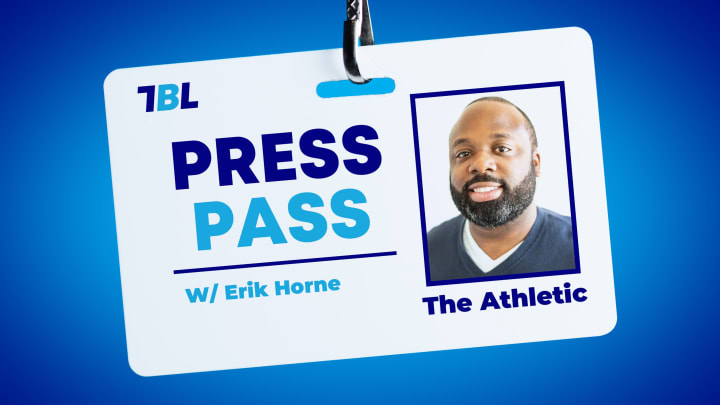 Erik Horne, The Athletic /
Erik Horne is a breaking news editor for The Athletic. He joined the Press Pass podcast to discuss the path he took to get to this point, starting off as an unpaid journalist for Score Atlanta under the tutelage of I.J. Rosenberg. He worked his way up the ranks as a prep sports editor and writer before ending up at The Oklahoman, working as a web editor and eventually becoming the Oklahoma City Thunder beat writer. Horne spent four years on that beat before heading to The Athletic, where he pulled double duty as a writer and editor before transitioning to breaking news editor full-time.
Horne discusses the line he has to walk as a breaking news editor to entice readers to subscribe to The Athletic without giving up too much of his writers' work, the subscription-based model in sports media at large, and the importance of the connections he made with the National Association of Black Journalists as a young reporter. He also explained why Little Caesars Arena in Detroit has the best setup for media members, what restaurants in OKC he's excited to back to once the world is normal again, and more.
Listen to the full episode below.
PREVIOUS PRESS PASS PODCASTS
Adrian Wojnarowski, ESPN... Jeopardy champion Kara Spak ... Adam Amin, Fox Sports ...Andrew Marchand, New York Post ... Nicki Jhabvala, Washington Post ... Nicole Yang, Boston Globe ...Chris Cotillo, MassLive ... Trevor Lane, Lakers Nation ... Mark Carman, Fansided ... Will Guillory, The Athletic ... Keith Law, The Athletic ... Maddy Glab, Buffalo Bills ... Greg Moore, Arizona Republic ... Brandon Tierney, CBS Sports ... Todd Archer, ESPN ... Dan Kurtz, MyKBO ... Matt Miller, Bleacher Report ... Armando Salguero, Miami Herald ... Vic Tafur, The Athletic ... Robert Seidman, Sports TV Ratings ... Brian Anderson, Turner Sports ... Mike Reiss, ESPN ... Chad Finn, Boston Globe ... Keith Smith, Yahoo! Sports ... Ethan Strauss, The Athletic ... Kyle Neubeck, PhillyVoice ... Jenna Laine, ESPN ... Yaron Weitzman, Bleacher Report ... Greg Auman, The Athletic ... Mo Dakhil, Bleacher Report/The Athletic ... Dave Clark, Cincinnati Enquirer ... Michael Pina, SB Nation ... Arif Hasan, The Athletic ... Max Adler, Golf Digest ... Jay King, The Athletic ... Mirin Fader, Bleacher Report ... Charles McDonald, New York Daily News ... Haley O'Shaughnessy, The Ringer ... Sarah Spencer, Atlanta Journal-Constitution ... Jovan Buha, The Athletic ... Shea Serrano, The Ringer ... Daniel Oyefusi, Baltimore Sun ... Ahmed Fareed, NBC Sports