Dom Cosentino of theScore Discusses His Road Through Media, What the Eagles Will Do With Carson Wentz, and More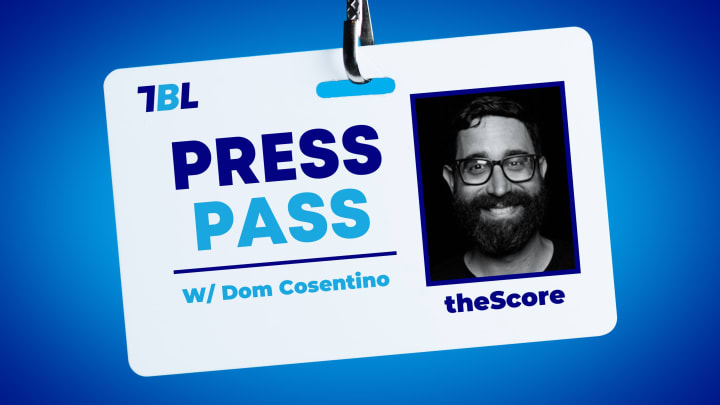 Dom Cosentino /
Dom Cosentino is a senior features writer covering the NFL for theScore, the popular sports news and scores app. He joined the Press Pass podcast to discuss his journey through sports media and how he ended up at theScore starting all the way back in Pittsburgh, where he'd publish a sports newsletter out of his parents' basement as a young sports fan. After taking a job with a videoconferencing company out of college, Dom broke into the industry on a local township beat and wrote pieces like profiling the town's favorite pig dying. He moved on to the high school beat for a decade before deciding to try his hand at the online media industry, joining Deadspin as an editorial assistant. From there, he transitioned to covering the Jets as a full-time beat writer before ending up back at Deadspin, and was part of the staff that quite en masse after editor-in-chief Barry Petchesky was fired. Now he's at theScore.
Dom also touches upon the bigger topics of the NFL landscape right now, like Carson Wentz' future and the Steelers' Super Bowl chances, as well as why working on the NFL's concussion settlements was one of the more fulfilling stories of his career and the experience of being in the newsroom when Tim Burke and Jack Dickey broke the Manti Teo story earlier in the decade. You can follow Dom on Twitter here.
Listen to the full podcast below, and feel free to subscribe to Press Pass on Spotify, Google Podcasts, and Apple Podcasts.
PREVIOUS PRESS PASS PODCASTS
Erik Horne, The Athletic... Adrian Wojnarowski, ESPN... Jeopardy champion Kara Spak ... Adam Amin, Fox Sports ...Andrew Marchand, New York Post ... Nicki Jhabvala, Washington Post ... Nicole Yang, Boston Globe ...Chris Cotillo, MassLive ... Trevor Lane, Lakers Nation ... Mark Carman, Fansided ... Will Guillory, The Athletic ... Keith Law, The Athletic ... Maddy Glab, Buffalo Bills ... Greg Moore, Arizona Republic ... Brandon Tierney, CBS Sports ... Todd Archer, ESPN ... Dan Kurtz, MyKBO ... Matt Miller, Bleacher Report ... Armando Salguero, Miami Herald ... Vic Tafur, The Athletic ... Robert Seidman, Sports TV Ratings ... Brian Anderson, Turner Sports ... Mike Reiss, ESPN ... Chad Finn, Boston Globe ... Keith Smith, Yahoo! Sports ... Ethan Strauss, The Athletic ... Kyle Neubeck, PhillyVoice ... Jenna Laine, ESPN ... Yaron Weitzman, Bleacher Report ... Greg Auman, The Athletic ... Mo Dakhil, Bleacher Report/The Athletic ... Dave Clark, Cincinnati Enquirer ... Michael Pina, SB Nation ... Arif Hasan, The Athletic ... Max Adler, Golf Digest ... Jay King, The Athletic ... Mirin Fader, Bleacher Report ... Charles McDonald, New York Daily News ... Haley O'Shaughnessy, The Ringer ... Sarah Spencer, Atlanta Journal-Constitution ... Jovan Buha, The Athletic ... Shea Serrano, The Ringer ... Daniel Oyefusi, Baltimore Sun ... Ahmed Fareed, NBC Sports