Trevor Lane From Lakers Nation Talks the Transition From Teaching to Writing, Lakers Struggles, LeBron/AD and More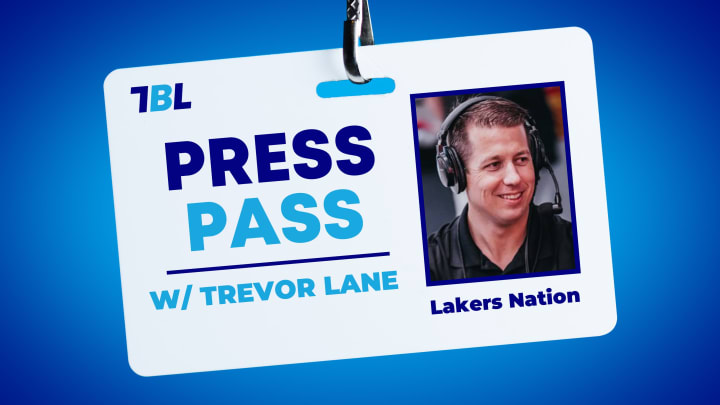 Trevor Lane /
Trevor Lane is a senior writer and host for Lakers Nation. He joined the Press Pass podcast to discuss his career path and the recent struggles of the Los Angeles Lakers.
Topics include: how he started his first blog, making the jump from self-publishing to working at Silver Screen and Roll, learning on the job, juggling teaching while writing, why he decided to take the leap of faith now and go full-time as a writer, and what he's most excited about going forward now that he can dedicate all of his time to basketball. Lane also discussed how the Lakers can bounce back from their Game 1 loss to the Portland Trail Blazers, the impact of Alex Caruso, Anthony Davis at center, if we'll see a more aggressive LeBron James, his favorite Kobe Bryant memory, and more!
Listen to the full podcast below or follow the link here.
PREVIOUS PRESS PASS PODCASTS
Mark Carman, Fansided... Will Guillory, The Athletic... Keith Law, The Athletic ... Maddy Glab, Buffalo Bills ... Greg Moore, Arizona Republic ... Brandon Tierney, CBS Sports ... Todd Archer, ESPN ... Dan Kurtz, MyKBO ... Matt Miller, Bleacher Report ... Armando Salguero, Miami Herald ... Vic Tafur, The Athletic ... Robert Seidman, Sports TV Ratings ... Brian Anderson, Turner Sports ... Mike Reiss, ESPN ... Chad Finn, Boston Globe ... Keith Smith, Yahoo! Sports ... Ethan Strauss, The Athletic ... Kyle Neubeck, PhillyVoice ... Jenna Laine, ESPN ... Yaron Weitzman, Bleacher Report ... Greg Auman, The Athletic ... Mo Dakhil, Bleacher Report/The Athletic ... Dave Clark, Cincinnati Enquirer ... Michael Pina, SB Nation ... Arif Hasan, The Athletic ... Max Adler, Golf Digest ... Jay King, The Athletic ... Mirin Fader, Bleacher Report ... Charles McDonald, New York Daily News ... Haley O'Shaughnessy, The Ringer ... Sarah Spencer, Atlanta Journal-Constitution ... Jovan Buha, The Athletic ... Shea Serrano, The Ringer ... Daniel Oyefusi, Baltimore Sun ... Ahmed Fareed, NBC Sports