Adrian Wojnarowski on Drafting History, Then Giving It Voice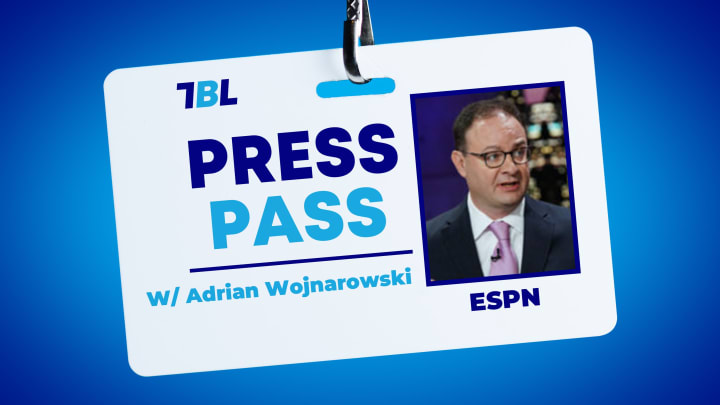 Bombs are not subtle. There is little nuance in maximum blast. They often leave the world splintered into two measures of time: before impact and after. But it's always more complicated than a single cause and effect.
Adrian Wojnarowski is known for his scoops yet transactional reporting (and as this sentence is being typed he's breaking Chris Paul to Phoenix) did not land him atop the NBA media mountain. His best selling Miracle of St. Anthony was, at its core, about humans doing extraordinary things.
When Giannis Antetokounmpo runs like an actual deer, eliciting fear in every defender within a 60-foot radius, a fierce collision with the rim is imminent. He is one of basketball's best players because he possesses almost superhuman physical gifts. Yet there are countless Sliding Doors scenarios in which he's just another name we never learned to spell, toiling away thousands of miles from the brightest NBA lights or in, say Atlanta instead of Milwaukee.
The Greek Freak moniker denotes atypicality and Antetokounmpo's may be, at least in this metaphase of his journey, the lack of a defined and well-understood origin story. We know Jordan's. We know LeBron's. We know Kobe's. The list goes on without mentioning this revelation who showed up mysteriously unheralded and took the league by storm. Or how the tale of his draft predicted the way he'd persistently bump his head on preconceived ceilings of varying heights.
Until now. As part of his Woj Pod on ESPN, Wojanaroswki has published a three-episode narrative podcast called The Giannis Draft. It features in-depth interviews with the player, the agents, and the Nesting Doll Egg-thick layers of powerbrokers associated with this time of thing.
Two spoilers. One, Antetokounmpo goes to the Bucks 15th overall. Two, the leisurely, descriptively stroll we take to arrive at that terminal is not a walk spoiled. Over a year in the making, the project delights in specificity and taking much care in painting in the negative space too often neglected by broad-stroke enthusiasts.
The musical choices and transitions are thoughtful and transportable, sounding like the soundtrack to octopi drying in a nightly dining ritual underscored with the tacit knowledge that the strong survive, yet becoming strong is a constant heavy lift. At one point the tapping of fingers becomes punctuation, driving home a point.
And at that moment, the subtext becomes text and the realization that this all feels different for ESPN. Different in the exciting way. An epiphany that those pegged as insiders still have the capacity for arresting storytelling. From Jeff Passan's prose to Wojnarowski's ability to trust the most captivating voice and convince major players weave a square in the quilt of basketball history, there is so much opportunity to have an army of ESPN Daily-like offerings out there flooding the zone.
Exercising that muscle with a small team and figuring it out on the fly is clearly something that Wojnarowski enjoyed, nodding to the joy of collaboration. A savvy observer couldn't help but notice the full-court blitz from his Bristol colleagues championing the trilogy this morning. Even the best teammate understands that it's way more fun to promote excellent stuff, so more of it would make things even easier. You see where this is going.
Wojnarowski spoke to The Big Lead about his newest project hours before the NBA's silly season truly kicked off. It was a reminder that while This League may be brimming with narrative arcs and eye-popping stories, it takes real diligence to curate them in a digestible, meaningful matter, which may be the podcast's most adroit wire act.
Jeopardy champion Kara Spak ... Adam Amin, Fox Sports ...Andrew Marchand, New York Post ... Nicki Jhabvala, Washington Post ... Nicole Yang, Boston Globe ...Chris Cotillo, MassLive ... Trevor Lane, Lakers Nation ... Mark Carman, Fansided ... Will Guillory, The Athletic ... Keith Law, The Athletic ... Maddy Glab, Buffalo Bills ... Greg Moore, Arizona Republic ... Brandon Tierney, CBS Sports ... Todd Archer, ESPN ... Dan Kurtz, MyKBO ... Matt Miller, Bleacher Report ... Armando Salguero, Miami Herald ... Vic Tafur, The Athletic ... Robert Seidman, Sports TV Ratings ... Brian Anderson, Turner Sports ... Mike Reiss, ESPN ... Chad Finn, Boston Globe ... Keith Smith, Yahoo! Sports ... Ethan Strauss, The Athletic ... Kyle Neubeck, PhillyVoice ... Jenna Laine, ESPN ... Yaron Weitzman, Bleacher Report ... Greg Auman, The Athletic ... Mo Dakhil, Bleacher Report/The Athletic ... Dave Clark, Cincinnati Enquirer ... Michael Pina, SB Nation ... Arif Hasan, The Athletic ... Max Adler, Golf Digest ... Jay King, The Athletic ... Mirin Fader, Bleacher Report ... Charles McDonald, New York Daily News ... Haley O'Shaughnessy, The Ringer ... Sarah Spencer, Atlanta Journal-Constitution ... Jovan Buha, The Athletic ... Shea Serrano, The Ringer ... Daniel Oyefusi, Baltimore Sun ... Ahmed Fareed, NBC Sports