Brandon Tierney Discusses 'Tiki and Tierney,' His Journey in Sports Media and How His Love For Sports Began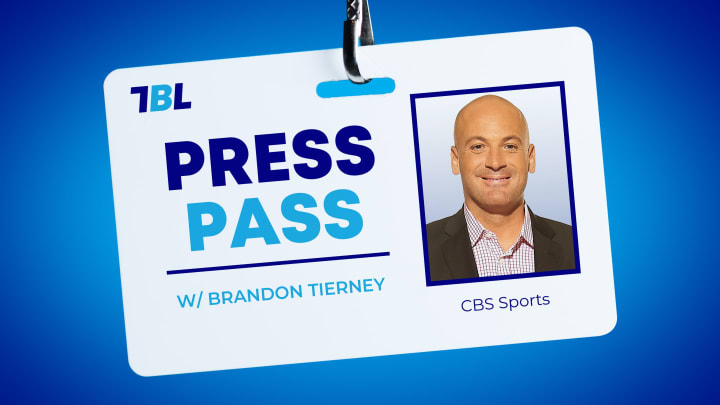 Brandon Tierney, CBS Sports /
Brandon Tierney is the co-host of CBS Sports Radio's Tiki and Tierney, which airs 3 p.m. to 6 p.m. on weekdays. He's also an analyst on CBS Sports Network's THAT OTHER PREGAME SHOW on Sunday mornings during the NFL season and is an analyst for St. John's basketball games. As if that wasn't enough, Tierney was also a host on Discovery Channel's Man vs Bear.
Tierney joined the Press Pass podcast to discuss what made him love sports and why he had a desire to make a career in sports media. We discussed his journey from working at a small, family-owned radio station in Allentown, Pennsylvania, to rising up to his current position at CBS. Tierney is an outstanding storyteller with a fascinating story to tell.
Enjoy:
Todd Archer, ESPN ... Dan Kurtz, MyKBO ... Matt Miller, Bleacher Report ... Armando Salguero, Miami Herald ... Vic Tafur, The Athletic ... Robert Seidman, Sports TV Ratings ... Brian Anderson, Turner Sports ... Mike Reiss, ESPN ... Chad Finn, Boston Globe ... Keith Smith, Yahoo! Sports ... Ethan Strauss, The Athletic ... Kyle Neubeck, PhillyVoice ... Jenna Laine, ESPN ... Yaron Weitzman, Bleacher Report ... Greg Auman, The Athletic ... Mo Dakhil, Bleacher Report/The Athletic ... Dave Clark, Cincinnati Enquirer ... Michael Pina, SB Nation ... Arif Hasan, The Athletic ... Max Adler, Golf Digest ... Jay King, The Athletic ... Mirin Fader, Bleacher Report ... Charles McDonald, New York Daily News ... Haley O'Shaughnessy, The Ringer ... Sarah Spencer, Atlanta Journal-Constitution ... Jovan Buha, The Athletic ... Shea Serrano, The Ringer ... Daniel Oyefusi, Baltimore Sun ... Ahmed Fareed, NBC Sports.