Latest Podcasts Leads
Matt Miller Discusses Launching Substack Site and His Bleacher Report Departure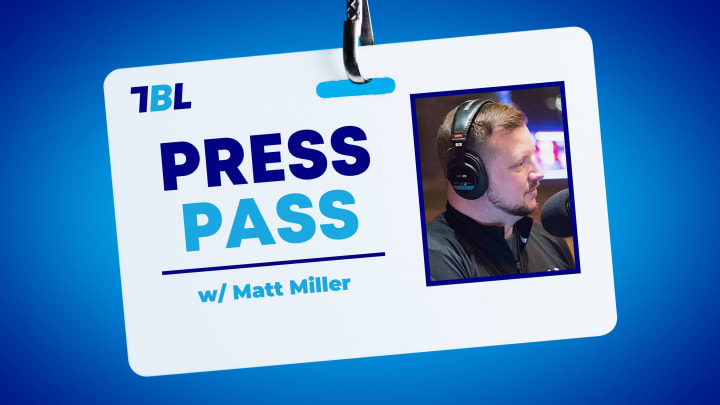 Matt Miller /
Matt Miller was ready for a change. After a decade as Bleacher Report's senior NFL Draft writer and most prominent homegrown talent, he filed his last article for the company on December 21. On Monday, Miller announced he was launching a site on Substack titled The Draft Scout, which will be operational on February 11.
He spoke exclusively to The Big Lead about his new direction and why it was time to move on from Bleacher Report.
With his contract winding down, Miller told me looked at the media landscape and where Bleacher Report was going and decided it was time to do something different. "I want to go write like I used to, I want to be able to cover football the way that I care about it and the way I think a lot of my audience cares about it. Where there's actual reporting, there's some journalism involved. Getting back to giving people the mock drafts, the scouting reports and the player rankings they want," Miller said.
After seeing friend and former Bleacher Report colleague Tyler Dunne launch his own Substack, Miller got excited about the platform. "I'm excited because I have no boss, I have no corporate sponsor, I have no ads, nothing," he said. "I get to actually write the things that I care about ... It's a big gamble, but I'm excited about that."
Miller said leaving Bleacher Report was incredibly difficult. "It's honestly the hardest thing I've ever had to do, to make that decision," he said. But he also felt there was a shift in the company's priorities away from in-depth NFL writing. There we no hard feelings, he just wanted to get back to doing the kind of writing he loved.
You can hear audio of the entire interview below, in it he discusses his current and upcoming projects, while going into detail on his decision:
Miller's Substack will be the hub where you can find all of his writing, but it's not the only venture he's pursuing. He has a radio show called "Mic'd Up" that airs from 2 p.m. to 4 p.m. weekdays on Fox Sports Joplin, and hosts "Two Guys, a Girl and a Podcast" with his brother Marshal and Paige Kuhn. Links to all his work can be found here.
Check out our first interview with Miller from back in May where he discussed his rise in sports media and how his career developed.
PREVIOUS PRESS PASS PODCASTS
Jeremy Schaap, ESPN ... Dom Cosentino, theScore ... Erik Horne, The Athletic ...Adrian Wojnarowski, ESPN ... Jeopardy! champion Kara Spak ... Adam Amin, Fox Sports ... Andrew Marchand, New York Post ... Nicki Jhabvala, Washington Post ... Nicole Yang, Boston Globe ...Chris Cotillo, MassLive ... Trevor Lane, Lakers Nation ... Mark Carman, Fansided ... Will Guillory, The Athletic ... Keith Law, The Athletic ... Maddy Glab, Buffalo Bills ... Greg Moore, Arizona Republic ... Brandon Tierney, CBS Sports ... Todd Archer, ESPN ... Dan Kurtz, MyKBO ... Matt Miller, Bleacher Report ... Armando Salguero, Miami Herald ... Vic Tafur, The Athletic ... Robert Seidman, Sports TV Ratings ... Brian Anderson, Turner Sports ... Mike Reiss, ESPN ... Chad Finn, Boston Globe ... Keith Smith, Yahoo! Sports ... Ethan Strauss, The Athletic ... Kyle Neubeck, PhillyVoice ... Jenna Laine, ESPN ... Yaron Weitzman, Bleacher Report ... Greg Auman, The Athletic ... Mo Dakhil, Bleacher Report/The Athletic ... Dave Clark, Cincinnati Enquirer ... Michael Pina, SB Nation ... Arif Hasan, The Athletic ... Max Adler, Golf Digest ... Jay King, The Athletic ... Mirin Fader, Bleacher Report ... Charles McDonald, New York Daily News ... Haley O'Shaughnessy, The Ringer ... Sarah Spencer, Atlanta Journal-Constitution ... Jovan Buha, The Athletic ... Shea Serrano, The Ringer ... Daniel Oyefusi, Baltimore Sun ... Ahmed Fareed, NBC Sports