Ira Winderman of the Sun-Sentinel on Covering the Heat For Over 30 Years, Giannis-Miami Rumors, and More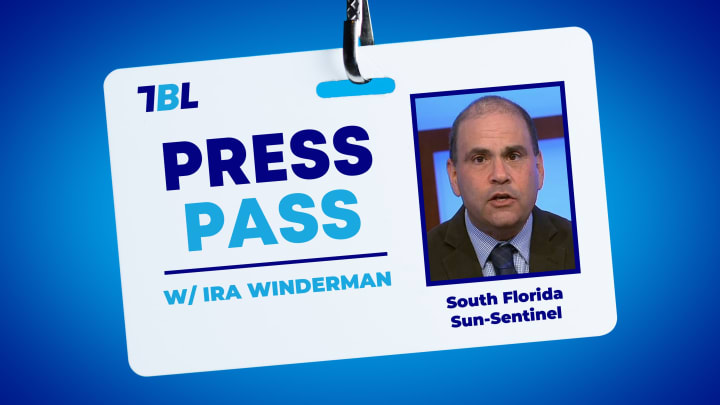 Ira Winderman has been covering the Miami Heat for the South Florida Sun-Sentinel since the franchise was founded in 1988. He took the time to chat with The Big Lead about his college days covering basketball (including a profile of a then-unknown SUNY point guard named Stan Van Gundy), his early years on the boxing beat for the Sun-Sentinel and moving up to Gainesville to cover University of Florida sports before moving on to cover the Heat. The longtime journalist shares his thoughts on the state of the industry, the rise of the Twitter reporter, and the experience of covering the extremely high peaks and low valleys of a basketball franchise since its inception.
Ira discusses the possibility of Giannis Antetokounmpo joining the Heat come 2021, his best Pat Riley story and why Jimmy Butler is perfect for this franchise. He also dives into the magic of Erik Spoelstra, why the Heat's Finals run deserves a footnote (but not an asterisk), and what to expect from the exciting young duo of Tyler Herro and Bam Adebayo. Listen to the full podcast below or follow the link here.
PREVIOUS PRESS PASS PODCASTS
Andrew Marchand, New York Post ... Nicki Jhabvala, Washington Post ... Nicole Yang, Boston Globe ...Chris Cotillo, MassLive ... Trevor Lane, Lakers Nation ... Mark Carman, Fansided ... Will Guillory, The Athletic ... Keith Law, The Athletic ... Maddy Glab, Buffalo Bills ... Greg Moore, Arizona Republic ... Brandon Tierney, CBS Sports ... Todd Archer, ESPN ... Dan Kurtz, MyKBO ... Matt Miller, Bleacher Report ... Armando Salguero, Miami Herald ... Vic Tafur, The Athletic ... Robert Seidman, Sports TV Ratings ... Brian Anderson, Turner Sports ... Mike Reiss, ESPN ... Chad Finn, Boston Globe ... Keith Smith, Yahoo! Sports ... Ethan Strauss, The Athletic ... Kyle Neubeck, PhillyVoice ... Jenna Laine, ESPN ... Yaron Weitzman, Bleacher Report ... Greg Auman, The Athletic ... Mo Dakhil, Bleacher Report/The Athletic ... Dave Clark, Cincinnati Enquirer ... Michael Pina, SB Nation ... Arif Hasan, The Athletic ... Max Adler, Golf Digest ... Jay King, The Athletic ... Mirin Fader, Bleacher Report ... Charles McDonald, New York Daily News ... Haley O'Shaughnessy, The Ringer ... Sarah Spencer, Atlanta Journal-Constitution ... Jovan Buha, The Athletic ... Shea Serrano, The Ringer ... Daniel Oyefusi, Baltimore Sun ... Ahmed Fareed, NBC Sports