Greg Moore of The Arizona Republic On His Journey From News to Sports Media and Kyler Murray's Second Season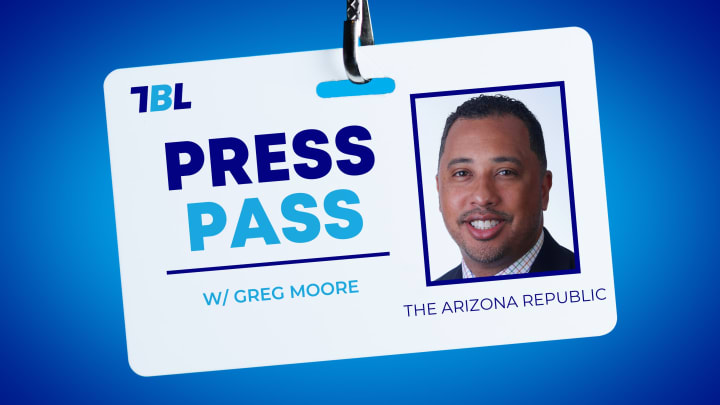 Greg Moore, The Arizona Republic /
Greg Moore is a sports columnist over at The Arizona Republic, self-described as "the guy who called Colin Kaepernick his hero for wearing a Kunta Kinte shirt. He's the guy who picks the Lions and Raiders for the Super Bowl every year as a protest vote. And he's the guy who said the Cardinals should take Kyler Murray with the No. 1 pick – even though they traded up to get Josh Rosen in the previous draft! Moore writes about sports, race and culture with the aim of connecting people who don't know how much they have in common and of giving readers a sense of what it feels like to be black. (Sometimes, it's infuriating.) But mostly, he wants you to know what he's thinking, because he can't believe he's the only one who thinks it!"
He joined The Big Lead to discuss his winding journey through media that brought him all over the country and into a variety of different newsrooms, including a particularly stacked squad in Kansas City alongside Jason Whitlock, Terez Paylor, and many others. Moore also explained why he thinks the Cardinals have as good a chance as any team to win the NFC West, how huge DeAndre Hopkins is going to be for Kyler Murray, why Isaiah Simmons has what it takes to succeed, and more.
Other highlights:
-- When Greg realized he wanted to pursue journalism (3:00)
-- The pivotal role a man named Larry played in his early development as a journalist (12:20)
-- Why working in the Kansas City Star sports department was one of his most important career stops (19:30)
-- How Arizona will use Isaiah Simmons in his first NFL season (34:25)
-- Why the Cardinals have a chance to win the NFC West (43:20)
-- His favorite story he's ever written, featuring Satchel Paige and Cool Papa Bell (50:00)
PREVIOUS PRESS PASS PODCASTS
Brandon Tierney, CBS Sports... Todd Archer, ESPN ... Dan Kurtz, MyKBO ... Matt Miller, Bleacher Report ... Armando Salguero, Miami Herald ... Vic Tafur, The Athletic ... Robert Seidman, Sports TV Ratings ... Brian Anderson, Turner Sports ... Mike Reiss, ESPN ... Chad Finn, Boston Globe ... Keith Smith, Yahoo! Sports ... Ethan Strauss, The Athletic ... Kyle Neubeck, PhillyVoice ... Jenna Laine, ESPN ... Yaron Weitzman, Bleacher Report ... Greg Auman, The Athletic ... Mo Dakhil, Bleacher Report/The Athletic ... Dave Clark, Cincinnati Enquirer ... Michael Pina, SB Nation ... Arif Hasan, The Athletic ... Max Adler, Golf Digest ... Jay King, The Athletic ... Mirin Fader, Bleacher Report ... Charles McDonald, New York Daily News ... Haley O'Shaughnessy, The Ringer ... Sarah Spencer, Atlanta Journal-Constitution ... Jovan Buha, The Athletic ... Shea Serrano, The Ringer ... Daniel Oyefusi, Baltimore Sun ... Ahmed Fareed, NBC Sports.