The Big Lead Quarterly: NBA Finals Ratings, Pat McAfee and Shannon Sharpe All on the Move
The quarter's biggest media news, touching on everything from ESPN layoffs to early MLB ratings and the Chris Licht disaster at CNN.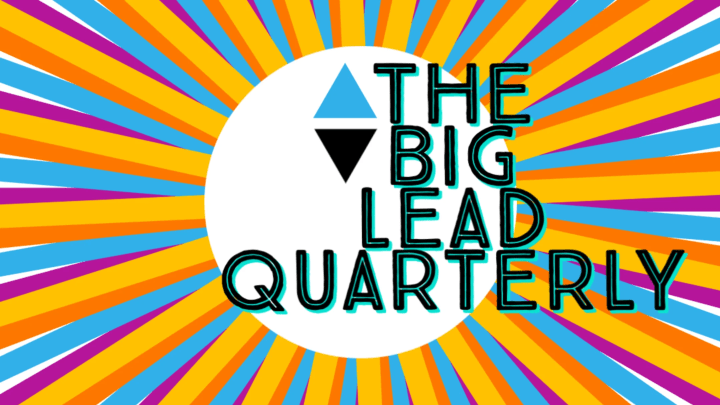 The Big Lead Quarterly, Q2 /
The media world is fast-moving business and news can slip through the cracks as each day brings waves of fresh content. Similar to our annual Sports Media Awards, The Big Lead Quarterly endeavors to inform you of the most important developments in the space. Earlier this year we summarized Q1. Below you'll find a recap of the second quarter of 2023-- from singular moments that reverberated throughout the industry to landscape-altering news items.
Moment of the Quarter
The moment that stood head and shoulders above all others.
In the 16 years The Big Lead has been online, there have been perhaps two or three stories that were as shocking and earth-shattering as the surprise PGA Tour-LIV merger that exploded out of an otherwise sleepy CNBC morning block. A tightly-guarded secret immediately became the only thing anyone was talking about, enrapturing both golf-centric media and casuals. The overwhelmingly negative response was no surprise yet it was a calcifying moment for a segment of the press that can be criticized for being too soft. In the absence of empirical facts and plans — which to this day remain a bit opaque — the canvas was wide-open for opinion pieces and everyone involved delivered. 
Though commissioner Jay Monahan took a lion's share of the shrapnel, thoughtfully considered commentary about the numbing and depressing creep of sportswashing on all corners of the universe came en masse. It was a car crash in real time and it spawned additive rubbernecking because, well, how in the hell could this possibly be happening? We've become almost irreversibly fractured in both what captures our interest and where we go to get our fix of that interest. That all paused under the weight of a rare collective experience where no one really knew what was going on and ticked through some pretty complex emotions. And again, we cannot stress enough that we're talking about golf here. Golf!
Media Bites
The news items that shaped the conversation.
ESPN Layoffs
After the new year began, there were rumblings that Disney would be undergoing some significant financial changes that would result in lost jobs. By the end of Q1, it became clear that ESPN would not escape the layoffs that were going to sweep through its parent company. The term "no sacred cows" started to get thrown around, a reflection of the reality that the cuts were going to come down to Excel sheet math with no room to consider how beloved a personality may be. As the network went through its first two waves of layoffs in Q2, it became apparent just how true that was. 
The first round of layoffs that began in mid-April hit some popular behind-the-scenes figures, most prominently VP of Corporate Communications Mike Soltys; he was the second-longest tenured employee in the entire company prior to his layoff. The second round, occurring in early June, led to the departure of a few on-air talents. Neil Everett signed off on his last SportsCenter. Chris Chelios and Rob Ninkovich will have to search elsewhere for a place to dish out their retired athlete wisdom. Andrew Marchand reported earlier in June that the four-letter planned to chop Keyshawn, JWill, & Max from the morning lineup and the futures of Keyshawn Johnson, Jay Williams, and Max Kellerman are up in the air; the former two are on expiring contracts while the latter doesn't have an obvious home when the Pat McAfee Show enters the lineup. McAfee as a big-money acquisition adds another layer to an already-complicated situation.
As Q2 comes to a close, these layoffs have already altered ESPN on a fundamental level both internally and externally. And there are more changes yet to come.
Shannon Sharpe Leaves Undisputed
Genuine friction between Undisputed's sparring partners created excellent television for people in car dealership waiting rooms and on Planet Fitness treadmills. It was a long marriage and felt like one, with bumps in the road that were smoothed over with earnest respect and two-way compassion. After seven years, Sharpe bid adieu to Skip Bayless and Fox Sports to explore different pastures and left a gaping hole in the signature debate show. We'll soon know which direction they choose to travel but it's tough to envision more interesting chemistry because people who don't wither beneath the hot heat of Bayless' takes and star power do not grow on trees.
Chris Licht Fired by CNN

One of the most disastrous, slapstick executive tenures in media history came to a predictable end in early June but not before the once-proud brand sustained considerable damage. Licht was criticized from day one from the outside and came increasingly under friendly fire after the Donald Trump town hall fiasco. If there's a bright side for CNN, they've rebounded by scoring two major scoops, including audio of the former president discussing those pesky documents just this week, so it seems as though there are a few adults remaining in the room.
NFL Amazon Flexing
As they gathered for their annual meetings in May, NFL owners approved flex scheduling for Thursday Night Football on Amazon Prime starting in the 2023 season. It sounds wild, but there is no guarantee we'll actually see the new option exercised this season. The league can only flex games in Week 13-17 and there are caveats that limit their options. We looked at the schedules and picked the two most likely games to get moved to Prime late in the season. 
More importantly, this is a gateway flex. If the owners are amenable to the idea of moving games from Sunday to Thursday, what's to stop them from adopting more Sunday and Monday flexibility in the future? This could be the first step to the NFL treating its broadcast schedule like more of a living, breathing document. Once the season gets going and it starts to become clear who is good, who is bad, and who is just plain boring, why wouldn't the NFL act accordingly?
Prime is paying a ton for Thursday night rights, but the league's three marquee windows remain 4 p.m. ET on Sunday, Sunday Night Football and Monday Night Football. If there's a way to move the best, most interesting games to those windows, the NFL will eventually find a way. Fans be damned. 
Personality of the Quarter— Pat McAfee
The personality who most demanded our attention.
Pat McAfee finds himself in the news a lot these days, whether for his interviews, his work on College GameDay or his broadcasting and performing for WWE. But in mid-May he shook the sports media world when it was announced he was leaving a lucrative deal with FanDuel to take his talents to ESPN. As if that wasn't enough, when his eye-popping salary was reported, the sports media world went nuts for the news.
His blockbuster five-year deal worth $85 million with ESPN is enormous, especially considering the financial changes the network is currently going through. McAfee's three-hour radio show -- which airs Monday through Friday -- will certainly shake the network's lagging audio offerings. The show will reportedly be on ESPN's cable channel, the network's free YouTube channel, as well as on ESPN+.
The last few years have seen McAfee rise from a funny former punter carving out a name for himself in the sports media landscape, to a bona fide star in the space. McAfee's style is unconventional and probably isn't for everyone, but there's no denying his magnetism.
The former All-Pro has developed into an excellent interviewer and the cast of characters around him harkens back to the heyday of the Dan Patrick Show. McAfee doesn't pretend to be an insider or an expert -- in fact, he relishes that he isn't. Instead, he allows his guests to play those roles, while he gleefully asks the same questions his many thousands of followers would if given the opportunity.
Now that he's under contract at the Worldwide Leader, the network can go about finding creative ways to use McAfee. He feels like a natural successor to Lee Corso on GameDay, but for $85 million that can't be all the network's brass has in mind. It will be fascinating to see the next step McAfee's career takes at a media giant like ESPN.
Say What?
The most shocking things we heard from members of the media.
-- Oakland Athletics broadcaster Glen Kuiper was let go by NBC Sports California in late May following a broadcast in which he unintentionally used a racial slur. Kuiper released an apology for his language but also expressed his unhappiness that his 20-year career calling A's games came to an end for "one mistake." 
-- Longtime MLB reporter Marly Rivera was fired by ESPN in late April after video was leaked of her aggressively cursing at a fellow reporter, Ivón Gaete, in front of Aaron Judge and a group of children. Rivera apologized and was then terminated, leading her to make a public statement that she felt she lost her job because Gaete is the wife of John Gundell, MLB VP of Communications. 
-- In early May, Philadelphia Phillies radio broadcaster Kevin Stocker announced the team was hosting a "Dickhead" Night while attempting to read a promo for Dick Allen Bobblehead Night. His slip-up was followed by a swift recovery and then a lengthy silence before the booth moved on. Or tried to, anyway; the laughter was not quite stifled enough to keep it off the broadcast.
-- As the Tampa Bay Lightning fought their way to the end of a 7-2 blowout loss to the Toronto Maple Leafs during the 2023 NHL playoffs, Lightning broadcaster Phil Esposito informed the viewing audience that there was a "fat woman yapping" as Tampa players were entering the penalty box. Or a "guy with long hair." He couldn't really tell. 
Ratings Roundup
What media column is complete without some ratings talk?
NBA Finals
There was a shocking amount of discussion during the NBA Playoffs this year about ratings. Specifically, discussion began based on how good the viewership would be if the Boston Celtics and Los Angeles Lakers faced off again in the NBA Finals once both teams reached their respective Conference Finals. And then, once both teams fell down 3-0, the discourse reversed quite suddenly. The talking points began to center around how bad the viewership would be for an NBA Finals featuring the Denver Nuggets and the Miami Heat, a matchup that pales in comparison to the overall draw of Lakers-Celtics. Then you throw in Nikola Jokic as the main star of the series, a man who has no interest in any media attention at all and is shockingly unknown among casual fans for a two-time MVP, and the ingredients were there for an all-time NBA Finals ratings flop. 
It turns out everybody who thought that was wrong. The ratings for the five-game series between the Nuggets and Heat, while not spectacular, were just fine. In fact they were roughly on par with last year's Golden State Warriors-Boston Celtics series, a Finals between two teams considered to be ratings titans. The final numbers: an average viewership of 11.65 million (a 5.5 percent drop from last year) with a peak of 13.08 million viewers in Game 5. While those numbers still don't compare to the titanic matchups between LeBron James and the Warriors in the late 2010s, it is about in line with what the NBA should expect in a post-pandemic viewing world. And, if anything, a very significant leap from the last time the Heat were in the Finals.
Ron DeSantis' Presidential Campaign Announcement
Florida Governor Ron DeSantis finally officially launched his presidential campaign in May. He did so on Twitter with the help of Elon Musk. It was a complete failure featuring the usual Trumped up claims about how successful it actually was. 
Six hundred thousand people tried to listen to the announcement at its scheduled start, but Twitter Spaces quickly crashed. Servers melted. This kept happening until they finally kept it working long enough for 300,000 people to tune in. David Sacks, who moderated the event, claimed it was the biggest room ever held on social media. This was easily debunked. Most funnily by pointing out BuzzFeed had 800,000 tune in to watch rubberbands make a watermelon explode. Basically, announcing a presidential campaign on Twitter just doesn't move the needle. 
DeSantis' campaign only got weirder from there. He snapped at a reporter. Made multiple awkward public appearances. And refused to tell the press how his last name was pronounced. And he isn't even close to done yet.
NFL Draft
Football Is King has become both gospel and meme in the ratings department, but one need not look at the 100 million-plus viewers of the Super Bowl to gauge the unmatched interest in the NFL. Really you only need to see the viewership numbers for something like the NFL Draft, a completely tertiary event in which no football is played, to truly grasp it. The 2023 Draft took place in late April over the course of three days. The first round on Thursday night drew an average of 11.29 million viewers. The numbers dropped over the final two days of the Draft but on the whole it still averaged six million viewers per day. To contextualize that number, only 10.43 million people watched Game 4 of the Denver Nuggets-Miami Heat NBA Finals, the game that allowed the Nuggets to go up 3-1 and effectively decide the series. Half a million more watched Roger Goodell say names and hug people.
It's silly to keep saying it and it doesn't really mean anything, but dammit if football isn't king. 
Faster Major League Baseball Games
Major League Baseball implemented some major changes for the 2023 season with the goal of increasing the pace of play and creating a more watchable product. No one knew quite how it would impact television ratings, but some speculated the newly-implemented pitch clock and banning the shift would lead to more action and a more exciting product. So far, the results are showing on the field, as games are finishing roughly 30 minutes faster. But TV ratings have been all over the place. 
Viewership for ESPN's Sunday Night Baseball package is up as of mid-June, with broadcasts averaging 1.517 million viewers, an increase from 1.419 million in 2022. Ratings for Fox's Saturday telecasts are down a tick over previous seasons. Meanwhile, FS1's broadcasts were averaging 267,000 viewers through May, a 23 percent decline. TBS did see a big increase in viewership for its non-exclusive Tuesday night games, as ratings were up 45 percent through May. Without a full season of data and seemingly no consistent trends to spot as we near the halfway point of the season, it's really hard to analyze whether the rule changes are impacting ratings. At this point it's safe to call the results a mixed bag.