The Big Lead Quarterly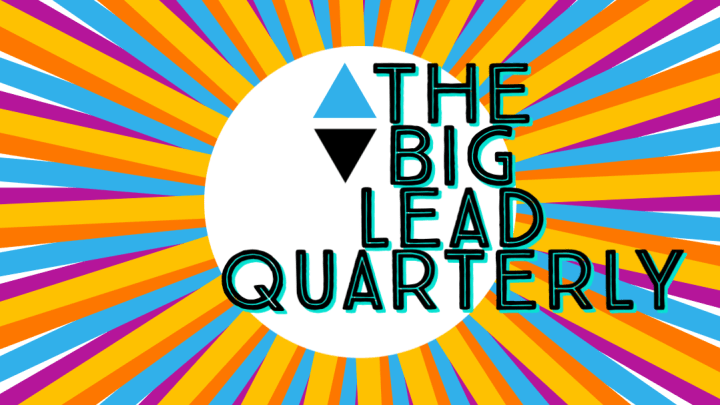 Sports media is a fast-moving business and news can slip through the cracks as each day brings waves of fresh content. Similar to our annual Sports Media Awards, The Big Lead Quarterly endeavors to inform you of the most important developments in the space. Below you'll find a recap of the first quarter of 2023-- from singular moments that reverberated throughout the industry to landscape-altering news items.
Moment of the Quarter
The moment that stood head and shoulders above all others
Chris "Mad Dog" Russo's First Take resurgence was one of the biggest sports media stories of 2022 and coloring all the discussion was a pesky little brain worm. What if, somehow and some way, Mike Francesa could be added into the recipe to build a hearty, nostalgic stew with three of the most high-profile opinionists sharing a desk? Would it crack under the weight of so many takes?

So give credit to ESPN. They went and did it. They did the thing everyone secretly wanted them to do. They got the band back together with none other than Stephen A. Smith playing rhythm guitar.
Anticipation for the Feb. 1 show grew and a plan was established. Then, mere hours before the red light went on, Tom Brady went and changed the entire setlist. But Russo and Francesa have forgotten more jazz than most have learned and expertly pivoted over 120 minutes of appointment television.
"We're always working to bring on the best guests to go head to head with Stephen A. every day," Antoine Lewis, ESPN vice president of production, told The Big Lead. "Chris 'Mad Dog' Russo has brought great energy to his weekly appearances over the last year-plus. This was a really unique situation where all the logistics lined up and Mike Francesa was able to join. We had the iconic Mike and the Mad Dog duo in-studio alongside Stephen A. and Molly, for the full two hours on the same day. It was a really fun show to be a part of, especially with the added news of Tom Brady's retirement to incorporate at the last minute."
"When we think about sport debate shows' inception, in my opinion it starts with talk radio," Smith added. "And there's no way you can talk about talk radio without bringing up Mike and the Mad Dog. This business has changed — and flourished — because of what they accomplished as a dynamic duo spanning 19 years. They are, unquestionably, the standard."
First Take was among the many ESPN shows that rode a spectacular January into the much-hyped event. But the empirical data doesn't tell the full story. For so many in the Tri-State Area or those merely interested in sports-debate history, it was a marquee moment. At its most basic level, it was simply nice to see these two together again and realize that, even after all these years, they can still chop it up with knives that haven't been noticeably dulled.
Russo just re-upped for another year appearing on the Worldwide Leader because he's Chris Russo and carries a known name. More importantly, though, he has undeniable chemistry with Smith and, obviously, has a complicated but intense shared history with Francesa.

Even those who don't consider themselves superfans of the iconic duo have to respect the ingenuity in envisioning such a gameplan and the decisive steps to make it happen.

Making old feel new is a challenge and, by our metrics, it proved an effective enterprise.
Media Bites
The news items that shaped the conversation.
Tom Brady's Gap Year & Greg Olsen's Standout Super Bowl

A funny thing happened on the way to Tom Brady becoming the highest-paid sports media personality in the history of sports media. After retiring from the NFL (again) and agreeing to a 10-year, $375 million contract, Brady decided to take a gap year. Will he play football again? Will he ever call a game for FOX? It is all unclear. 

What is clear is how good Greg Olsen is at the job that Brady is supposedly going to take. Olsen shined during his first season in the No. 1 booth alongside his longtime friend Kevin Burkhardt and the pair did a great job with their first Super Bowl. Neither FOX nor Tom Brady need each other, and Olsen is just sitting there doing his job waiting to see what happens.
Bally Sports Bankruptcy

When companies declare bankruptcy, much of us think only of Michael Scott frenetically screaming the term but do not grasp entirely what it means for the average consumer. Much of the time, it does not mean anything at all. In the case of Bally Sports' parent company, Diamond Sports, declaring bankruptcy, not only will the average consumer be affected but how we consume sports could change drastically.

Diamond Sports owns 19 Regional Sports Networks (known as RSNs in the biz) under the Bally Sports name. Declaring bankruptcy does not mean all 19 RSNs will shut down, but Diamond will be looking to cut costs significantly and will not keep all Bally Sports RSNs active. This means that the teams with existing deals with the RSNs that will cease operations must negotiate new rights deals with local affiliates, national brands, and/or other services to broadcast their games. It also means consumers in affected areas will have another service they need to add to the cable package or will be forced to switch to streaming online if a deal is struck with Amazon Prime or Apple TV.

Overall, the bankruptcy could very well serve as a referendum on RSNs as a whole. Diamond and NBC Sports are the two primary RSN providers in the country. With Diamond cutting back on operations, the landscape will begin to shift away from RSNs and towards alternative forms of broadcasting. Will that make it better or worse for the fans? We'll see. But things are changing-- and quickly.
The CW/LIV Media Rights Deal

It turns out there are some things money can't buy. In the case of the Saudi-backed LIV golf, it can't buy a high-profile broadcast partner. None of the big four networks or any of the sports networks appear to have any interest in LIV, so the upstart golf league with its high-priced stars and fancy team names had to stream their tournaments online before they were finally able to work out a deal with The CW in January.

LIV appears to be paying for everything and the CW is simply giving them a cable to plug into to broadcast their three-day tournaments to people who are just trying to find local broadcasting. Ratings have been abysmal and most of the big names have failed to come through so far. LIV has grand designs to sell their teams for hundreds of millions, but it would be far cheaper for a rich guy to buy some time on the CW and simply set up their own broadcast of a local amateur tournament. And the ratings couldn't possibly be much worse.
Personality of the Quarter
The personality who demanded our attention
Shannon Sharpe made as much news as any media member to open 2023. On-the-air he provided the voice of the masses, admonishing Undisputed sparring partner Skip Bayless for his senseless tweet about Damar Hamlin. While off camera he was involved in one of the more bizarre incidents sports media has seen in recent years when he squared off in a heated confrontation with Ja Morant and members of the Memphis Grizzlies. It has been an eventful few months for the NFL Hall of Famer.

On January 2, less than an hour after Damar Hamlin nearly died on a football field, Bayless took to Twitter and asked how the NFL could postpone the game between the Buffalo Bills and Cincinnati Bengals given its importance for playoff seeding. Sharpe did not show up to Undisputed the next day, reportedly because he was angry with his co-host's tweet. He returned the following day and engaged in a tense, awkward exchange with Bayless to open the show. It was uncomfortable for anyone viewing but, frankly, great television.
A few weeks later on January 20, Sharpe was in attendance as the Grizzlies played the Los Angeles Lakers at Staples Center. He got into a verbal sparring match with a few of Memphis' players, wound up standing on the court, then appeared ready to fight the entire team, plus Ja Morant's father Tee. It was such a strange display he went on Undisputed and apologized for his behavior. A few weeks later he became one of the most vocal critics of Morant, whose off-court troubles led to a suspension and counseling.

Sharpe has carved out a role as a strong counter to Bayless on FS1's flagship debate show. His comfort level and willingness to go right at his co-host has steadily increased during his six-plus years sitting across from him. The strength of his voice makes the show far better and he flexed those skills during the first quarter of 2023. Sharpe was a near-unanimous pick as sports media's biggest headline-maker of the year so far.
Ratings Roundup
What sports media column is complete without some ratings talk?
LIV/Power Slap/XFL

The NFL is the ratings king and it doesn't seem like anything will ever change that. Established entities like the NBA, MLB, PGA and college sports all have their moments and then it is up to new leagues - and even new sports - to fight over the scraps. 

LIV golf's second season (officially their first for some reason), has gotten off to a rocky start with little interest existing in their televised product - wherever it's being shown. The XFL returned (again) and drew the same poor ratings as last time. And finally, Dana White's Power Slap had the worst ratings of all and was canceled by TBS, despite supposed billions of social media impressions. How much longer will the other two leagues survive if ratings don't increase? 
NBA All-Star Game
The NBA All-Star Game has been an unserious competition for a long time and generally falls behind the Slam Dunk Contest on fans' lists of viewing priorities. Real and fundamental change may be on the way after this year's contest in Salt Lake City drew the fewest eyeballs ever; only 4.59 million viewers tuned in, beating the previous record low by nearly a million viewers. The NBA has fought a narrative for years that viewership was on the decline across the board for the sport as the perceived value (among both fans and teams) of all non-playoff games diminishes. These numbers make it hard to take those arguments very seriously.

The league undoubtedly cares more about how many people tune in to watch the Finals and other, more pivotal moments. But it cannot afford to sit by while ratings crater for the most star-studded event on the calendar-- especially for a sport so personality-driven. Change has to come to the NBA All-Star Game, and it will. Soon. We'll look back on 2023 ratings bottoming out as the catalyst.
2022 NFL Season and Super Bowl LVII
The NFL widely celebrated the ratings for Super Bowl LVII between the Kansas City Chiefs and the Philadelphia Eagles, as viewership hit over 100 million for the first time in three years and only the second time in the last five seasons. The competitive contest drew 112 million, to be precise, a greater number than any Super Bowl since 2015. We all know the NFL is king, but viewership numbers did wobble across the board in concert with all sports viewership taking a hit following the pandemic. The numbers for Chiefs-Eagles felt like a return to normalcy for the country's biggest ratings giant.

In contrast, however, viewership for the 2022 season at large was actually down three percent compared to 2021; regular-season contests averaged 16.7 million this past season, compared to 17.1 million in 2021. It may seem odd juxtaposed with the Super Bowl numbers above, but it isn't all that unexpected given Thursday Night Football's move to full-time streaming.

The NFL is still king. It is also still subjected to the sort of viewership peaks and valleys that the television landscape is made of.