Aaron Rodgers Delivers Pat McAfee the Biggest Scoop of His Life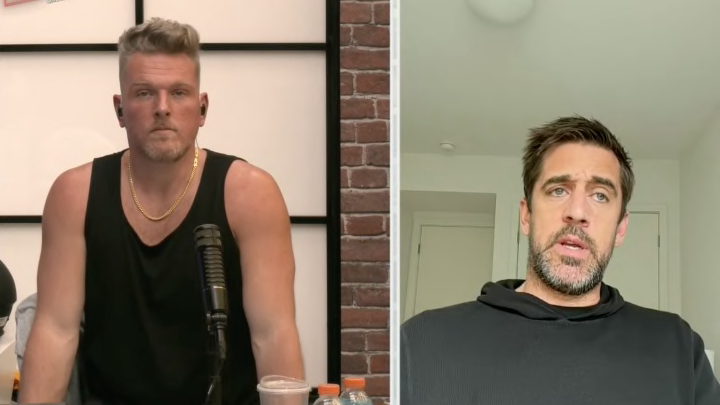 Moments ago, Aaron Rodgers put a long-running national nightmare to an end by announcing a carefully considered decision to continue his football career with the New York Jets. Now it's up to the details people to figure out all the details. This is far from a surprise because the scuttlebutt has been overwhelming all virtually all pointed to this eventuality. His chosen venue for this news was also predictable. The Pat McAfee Show.
McAfee, who also finds himself at the center of speculation regarding his next steps, has built and facilitated a unique relationship with Rodgers over the past few years. There's a standing invite on Tuesdays for the decorated quarterback to hop on and opine about football and, well, literally pretty much anything else, including the mysteries of the universe. Anecdotally, it seems that this environment is where the polarizing star feels his most comfortable.
Quibble about the arrangement all you like, but this remains an impressive bit of navigation in the sports media space by a man often without sleeves and without fear of being a disruptor. McAfee inhibits a squishy space where it's not quite clear if he's part of The Media or outside it — which can often change by the day or by who you ask.
It's a bit surprising that the former punter of the Indianapolis Colts has become one of the most successful test cases in athletes pursuing a second act, but his appeal is clear when every company is looking to appeal to the young and young-adjacent. McAfee has a wide array of options because he's been serious about diversifying his on-air and brand building portfolio. One could argue he has his hands in more pies than any of his peers in the industry. One need not argue anyone's done it with a faster pace.
By the time Rodgers reached the end of a meandering story, nearly half a million people were watching the show's livestream. A unicorn event to be sure, yet a dramatic salvo against some of the more mainstream.
Was it the most compelling and exciting news rollout you'll ever see? Certainly not. Did anyone particularly enjoy it outside of Jets fans who may finally get a quarterback capable of winning a Super Bowl? Hard to tell.
But it was a moment. A moment that McAfee and Rodgers sculpted together, for better or worse to a massive audience.
Today feels so far beyond even the best-case scenario for someone trying to build something out of nothing. And sure, maybe something like this never happens again. That doesn't mean it's any less impressive and noteworthy that it happened once.
Athletes have never been more interested in telling their side of the story on their own terms. McAfee's emergence as someone who can help them do that, with the highest of stakes, is yet another feather in the cap.
It's been a long journey but we all got there.
Now it's just a matter of Rodgers time in New York going smoothly. What could possibly go wrong?