2022 Sports Media Awards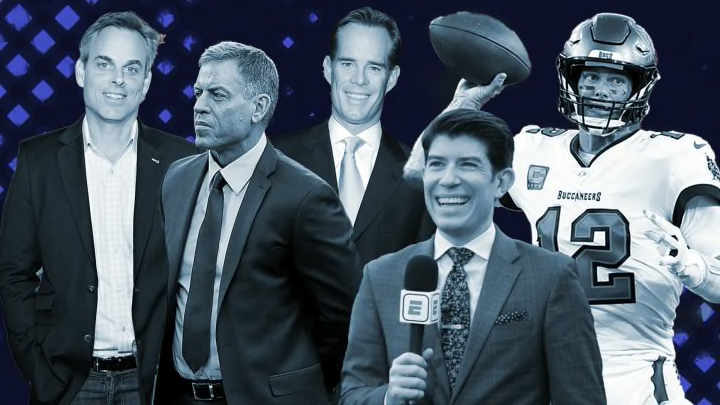 This was a landscape-changing year for sports media. Big names found new homes, salaries skyrocketed and, as always, news came fast and furious. Over the past six months our panel of experts has watched, listened, read, compared, collated and debated the best from sports media in 2022. The result is our annual tribute to the industry.

We present to you The Big Lead's 2022 Sports Media Awards.
Sports Personalities of the Year -- Troy Aikman, Joe Buck
In a move that sent shockwaves through the industry, Troy Aikman stepped away from the No. 1 NFL booth at Fox to explore new opportunities. He landed at ESPN on a massive new deal. His partner of a quarter-century, Joe Buck, soon followed, leaving his old World Series gig up for grabs. This immediately transformed the venerable Monday Night Football into something it hasn't been for a long time, giving ESPN the marquee booth it had sought to create for years. It was a massive coup for the network and for Disney's efforts to secure a Super Bowl.

Buck and Aikman are synonymous with the sport and bring a new weighty credibility to the property. They have been as good as always been through ¾ of the NFL season — insightful and comfortable and with the big-game gravitas necessary to elevate the experience to the proper level.

There is no bigger or more important sport than the NFL. It is a rock-solid investment. ESPN put the pieces together, and was willing to pay for those pieces. The network has shored up its coverage at a time when competition is becoming especially fierce. And, in doing so, completely flipped the narrative.

Tune into a Buck-Aikman game and the comfort washes over you. It's like nothing ever changed. Except the logo on their mic flags. Which means a heck of a lot.

Nominees: Pat McAfee, Al Michaels, Stephen A. Smith, Sage Steele
Best In-Game Analyst -- Cris Collinsworth
In 2022, Cris Collinsworth began his 14th season on Sunday Night Football, and his first without long-time broadcast partner Al Michaels. While the SNF broadcast has been different with Michaels off to Amazon to call Thursday Night Football, Collinsworth hasn't missed a beat. His partnership with Mike Tirico has flowed well, and his trademark relaxed, analytical style has remained as solid as ever. He still injects humor into the proceedings where appropriate and never steps on his broadcast teammate, despite their new partnership.

Collinsworth is as good as it gets as a color commentator and has proven his worth this season. He stands out as a huge positive for NBC despite the departure of his long-time partner. That, in turn, has elevated Tirico's game, making the Sunday Night Football broadcast one of the best in sports. Despite a loaded field, Collinsworth was a clear choice for Best In-Game Analyst of the Year.

Nominees: Jay Bilas, Bill Raftery, Stu Holden, Greg Olsen, Jeff Van Gundy
Best Play-by-Play Announcer -- Mike Breen
You don't know what you've got until it's gone. In 2022, that phrase applied to the dulcet tones of Mike Breen's voice on ABC's coverage of the NBA Finals. After testing positive for COVID-19, Breen missed Game 7 of the Eastern Conference Finals and the first two games of the Finals. It ended a streak of 91 consecutive Finals games he had called. While Mark Jones filled in ably for the absent voice of the finals, it just wasn't the same.

Breen has been at or near the top of his profession for decades but, sometimes, when someone is so good, you need a reminder of what life would be like without them. Viewers got that in 2022. The NBA Finals just weren't the same without Breen's signature "Bang!" calls. When he came back, it was like hearing from an old friend again, and the 61-year-old was still on his game.

Breen's work for the NBA on ABC and as the lead play-by-play announcer for MSG's coverage of the New York Knicks separated him from a crowded field in 2022. Two of his fellow nominees have won this award before and any would have been worthy of taking it home again this year. But we were reminded just how good Breen was when we had to go without him. Here's hoping we don't have to do that again any time soon.

Nominees: Kevin Harlan, Joe Buck, Lisa Byington, Ian Eagle
Insider of the Year -- Jeff Passan
For years Jeff Passan has been the dominant voice in breaking Major League Baseball news and in 2022 he broke the biggest story of his career. As the sports world waited on edge, Passan finally announced Major League Baseball and the MLB Players Association had reached a deal to end their monthslong labor dispute. That report capped off a wild sequence in which, on the biggest day of his career, he had his Twitter account hacked and it began advertising NFT giveaways. It was truly a bizarre afternoon.

While Passan has always been ESPN's ace-in-the-hole when it comes to breaking MLB news, he's also a delightful follow on Twitter. The man roasts followers who ask dumb questions without compunction. His entertaining, savage takedowns of commenters in his replies come in stark contrast to the entirely professional way he breaks news. He's unique in that sense. He's a serious journalist who also isn't above having a little fun on social media.

Passan lands the biggest stories baseball has to offer and faces little competition in doing so. He has surpassed his competition and stands alone atop the MLB reporting landscape. The fact that he broke the biggest story of 2022 just hours after navigating a hacked Twitter account only served to grow his legend.

Nominees: Adrian Wojnarowski, Adam Schefter, Shams Charania, Josina Anderson
Newcomer of the Year -- JJ Redick
It took a while for JJ Redick to get here. He graduated college way back in 2006, but took a few gap years to play in the NBA before starting a media career. (First with Yahoo! in 2016.) "The Old Man and the Three" launched in 2020 during the NBA bubble while he was still playing. That feels like both yesterday and a lifetime ago. When he retired, Redick joined ESPN as a basketball analyst but quickly became a versatile personality for the network.

His podcast continues to grow as he gets big-name guests who are willing to open up and share great, topical stories, while he is self-reflective about the evolving definition and role of new media. The podcast has become a standard for fellow former athletes to follow.

While his podcast continues to grow, he's integrated himself seamlessly into multiple ESPN shows like Get Up and First Take where he's become a champion of the current generation of NBA talent. Does he go a little hard on the older generation sometimes? Sure, but he makes a great foil for Stephen A. Smith and necessary counterbalance to someone like Chris "Mad Dog" Russo. Who knows where Redick goes from here, but ESPN would be wise to lock him down as a valuable television and podcast personality.

Nominees: Draymond Green, Hannah Keyser, C.J. McCollum
Best Radio Show -- The Herd with Colin Cowherd
Colin Cowherd's show wins this award for a second time in three years, as he continues to be the rare national radio voice who drives conversation. Year after year, Cowherd remains the same guy, providing over-the-top analysis mixed in with references to music, movies, politics and everything else he can squeeze a metaphor out of.

Cowherd is at his best giving a long-form take that wanders through multiple points to arrive at its central premise. These missives are well-crafted and he delivers them like the pro that he is, with impeccable timing and pacing. And there are few people on the planet who delight in eventually being proven right more than Cowherd -- see his gloating about Lincoln Riley and USC for clear evidence of that.

In 2022, Cowherd lost long-time co-host Joy Taylor, as she moved on to host Speak. Jason McIntyre (who founded this website) replaced her. The show chugged right along following the change. While the program has evolved, zigged and zagged over the years, Cowherd has remained the same brash, opinionated host he's always been. He feels like the last giant left standing as the national sports talk radio scene has collapsed around him. He has survived and thrived despite massive changes in his industry. This year, we've got him back on top of his profession.

Nominees: The Pat McAfee Show, Schein on Sports
Sportswriter of the Year -- Nicole Auerbach
Versatility is vitally important in sports media these days, and Nicole Auerbach is as multiskilled a writer as the industry has to offer. She covers a number of men's and women's college sports for The Athletic, breaks news, writes deep, interesting features and pens opinion pieces, including a weekly Top 10 column. All of Auerbach's articles are written with the kind of confidence and authority that comes from long experience on a beat. She has been one of the best college sports writers for years, dating back to her days with USA Today before she joined The Athletic in 2017. This was a great year for a superb writer.

Standout pieces include an excellent profile of Carol White, her feature on Stetson Bennett's performance Georgia's College Football Playoff win, an examination of the emerging parity in women's basketball, and a deep dive into the Sickos Committee. Sandwiched and around her feature work were articles covering NCAA issues including conference expansion, playoff expansion, NIL and TV rights deals.

In a crowded field, the quality, breadth and depth of Auerbach's work separated her from the pack this year.

Nominees: Peter King, Tyler Tynes, Brendan Quinn
Best Studio Host -- Molly Qerim
There is no more important role in studio television than that of the host. Hosts keep everyone around them on track, ensuring conversation goes in the right direction and transitions from topic, to commercial break, to topic smoothly. A quality host makes all the difference in the world. That has become obvious at ESPN where, on a daily basis, Molly Qerim puts on a masterclass as host for the four-letter network's top daytime sports talk show, First Take.

Qerim embraces the unenviable task of standing in the line of fire between Stephen A. Smith and whoever ends up across from him. She has done impressive work ensuring the show didn't miss a beat after dropping Max Kellerman. Her importance became clearer after Smith was forced to miss more than a month of debate following surgery this past summer. She also helped Chris "Mad Dog" Russo make a smooth transition onto ESPN. There may not be another host in the industry, much less at ESPN, capable of guiding the raging river that is a debate between Stephen A. and Mad Dog. Yet there Qerim was, week after week, handling two of the premier sports-shouters of a generation without breaking a sweat.

Her poise and demeanor gets ESPN through the rocky segments when they inevitably arise, and she cools everyone off when the discussion gets tense. First Take would not function as well as it does without Qerim in the middle of it all.

Nominees: Kyle Brandt, Ernie Johnson, Joy Taylor
Best Podcast -- The Ryen Russillo Podcast
Russillo, forever underrated and underappreciated during his daily radio days, forces admiration because he's a bit of a throwback. He puts his hand in the dirt three times a week on The Ryen Russillo Podcast, armed with a thorough understanding of both his playbook and everyone else's. There's something cathartic about a host who eschews the hot take for saying what they actually believe. In his case, it's backed by copious research from the couch and honest-to-goodness reporting aimed at educating the audience instead of building a personal brand.

There's an authenticity to everything Russillo does because he is fiercely himself, speaking matter-of-factly in his monologues the same way you'd want someone to speak to you over a beer at the bar. It's not showy and he makes a point of being malleable with new information.

But it's his interviews with guests that really stand out. Few people are more prepared than Russillo, who leverages his capital with an audience willing to go along for the ride with him to wherever his interests lie that particular week. The whole thing is a testament to forging one's path and going forward with ultimate commitment. He also provides a much-needed service to his audience -- which somehow averages 6-foot-3 and 240 pounds -- by dispensing life advice that's both practical and intensely entertaining.

Nominees: Pardon My Take, The Dan Le Batard Show with Stugotz, Titus & Tate
Best Sports Blogger -- Charlotte Wilder
Wilder wears many different hats for Fox Sports. She is the star of the network's Ultimate College Football Road Trip series. She also does longform writing and immersion journalism. But it was her work as a blogger that stood out most this year.

Blogging is a particular art form and Wilder manages to hit all the right marks for Fox as she showed off her versatility and range in 2022 with blog posts of all shapes and sizes. Her deep-dive investigation into Tom Brady's social media presence was tremendous reporting borne purely out of the sort of driving curiosity that creates the best possible content. She dipped her toe into homerism blogging as she live-blogged the Boston Celtics' NBA Finals run and Brady's first retirement. She even does the occasional listicle, which is a cornerstone of blog culture.

Wilder is an outstanding writer with the kind of conversational style necessary to thrive in the blogging space. Her behind-the-scenes work is always serious and shows in the final product, yet it's obvious she is having fun with it, too. Wilder's volume and quality of work speaks for itself and there are few better in the business at striking the delicate balance between the responsibility of being a reporter and the enjoyable, sometimes silly nature of the job.

Nominees: Jimmy Traina, David Roth
Biggest Sports Media Acquisition -- Tom Brady
Is Tom Brady worth the $347 million Fox has reportedly agreed to pay him over the next 10 years? It's hard to believe any human being is worth that much. And yet a case can be made that Brady is, indeed, worth every penny, even if his start date has yet to be determined.

The future Hall of Famer is primed to become the face of everything Fox Sports. He has the opportunity to become the rare broadcaster who inspires viewers to tune in by way of his mere presence -- and that's before anybody knows how he'll perform on-screen. If Brady is even half the broadcaster that he was as a quarterback, Fox's football coverage will become all the more valuable, and all but ensure the network will make a sizable return on its investment. That's just what we'll see on screen. Brady will also be an "ambassador" for Fox behind the scenes, likely making the company even more profitable in ways those outside the building can't comprehend.

Someone like Brady -- not just a former athlete, not just a living legend, but one of the most famous people in the world -- almost never enters the broadcasting realm. It is no exaggeration to say bringing aboard a personality of his stature and influence is a once-in-a-lifetime opportunity for Fox executives. Brady will be the tide that lifts all boats at the network. Put his name on a project, have him show up on-screen for anything, and its value will increase instantly. There may not be another person in sports media with that level of influence. Fox is paying dearly for the privilege, sure. No other sports media acquisition will be this expensive. But just as there's nobody like Tom Brady on the football field, there will be nobody like Tom Brady in the broadcast booth. And Fox now has the right to show that to the world for the next decade.

Nominees: Joe Buck, Chris "Mad Dog" Russo, Troy Aikman
Best Studio Show -- Good Morning Football
Good Morning Football really is an ideal sports talk show. It has the fundamentals down but doesn't rely too heavily on a formula. The current lineup of Kyle Brandt, Peter Schrager, Jason McCourty and Jamie Erdahl works like a well-oiled machine to deliver entertaining content every weekday.

GMFB has all the advantages of being an NFL property -- footage, insiders, expertise, access -- and still seems to have complete control over what topics it covers and how it covers them. The show's panelists can be the Wall Streeters one day, feature Angry Runs another, and have a deep and honest conversation about Deshaun Watson the next, and viewers don't have to worry about them pulling any punches. Even if the NFL is watching.

Over the last year and a half the show has lost two of its founding members in Nate Burleson and Kay Adams. But McCourty and Erdahl have filled those big shoes and the show hasn't missed a beat. Good Morning Football has no fake debates and will discuss anything. You never know what you're in for except that football will (probably) be involved and you will definitely be entertained.

Nominees: First Take, Inside the NBA, MLB Tonight, NFL RedZone
Best Sports Television Series -- Welcome to Wrexham
Two famous Hollywood stars buying a Welsh soccer team would seem to be the plot of a terrible mid-2000s Vince Vaughn-Owen Wilson movie, but instead it really happened. And viewers are all the better for it. Welcome to Wrexham, an 18-episode docuseries follows Rob McElhenney and Ryan Reynolds' decision to purchase lowly Wrexham AFC and attempt to build it from a fifth-tier squad into a football power. While the club is the oldest in Wales and the third oldest continually-operating team in the world, things were not good at Wrexham. McElhenney and Reynolds dove headfirst into the challenge of changing that. And that's just the first episode.

What separates Welcome to Wrexham from its competition is that it's not truly a story about two Hollywood actors or the team they bought. No, this series is about the town, and how sports can impact the population of a city, even when things are bad. Yes, McElhenney and Reynolds provide humor and color, and scenes of matches add excitement, but the heart of the show is the town and the people of Wrexham. Like the inhabitants of the city, this show has a ton of heart.

As viewers get to know the players and citizens of Wrexham, it's impossible not to fall in love with their stories and feel the entire range of their emotions. It will thrill, uplift and sadden viewers but always leave them wanting more. Welcome to Wrexham wasn't just the Best Sports Television Series of 2022, it was one of the best television shows of the year period. We can't wait for Season 2.

Nominees: Formula 1: Drive to Survive, Hard Knocks: Training Camp with the Detroit Lions, The Captain
Best Reaction -- Monica McNutt
Monica McNutt has been with ESPN since 2019. She's been a host, analyst and reporter working live events and appearing on an increasing number of shows across the World Wide Leader's dial. Like anyone on a panel show, McNutt has to compete for screen time and wait while other guests are giving their takes. In May she was caughting biting her tongue while Mike Greenberg and Alan Hahn discussed the idea that the Lakers might trade LeBron James.

McNutt waited her turn and stole the spotlight without saying a word. By the time Hahn started talking about the Warriors and LeBron she could barely contain herself. It was riveting television. As good as a late-career trade LeBron debate has any right to be in 2022, and it was all because of McNutt's reaction to the absurd premise.

There's an art to being an entertaining listener. A certain way to win a debate without actually saying anything. Stephen A. Smith once chose to walk off the set. Monica McNutt stayed and fought. Her restraint is what we'll never forget.
Independent Media Award -- Ethan Strauss
It takes courage to take aim at sacred cows and to lift up the hood on issues while asking the audience to confront some hard truths. Or perhaps more complicated truths. Strauss, a former ESPN writer, has made a splash with his SubStack, which boasts an eclectic and well-positioned audience. You may not agree with his conclusions, but few people are doing the work of asking tough questions. Importantly, he's proven that there is a market for dynamic commentary that straddles both ends of the political spectrum from someone unafraid to punch in each direction.
Strauss has found a market because there are precious few people in the industry willing to continually hold those in power accountable. He augments his written pieces with narrated articles, produces thought-provoking podcast and, honestly, is a pest in the most admirable way.
Best Meme -- Brian Windhorst
Brian Windhorst has been doing excellent work as a writer and insider for years, but this year he really came into his own as a meme generator. The most impressive part of this transformation is that he's doing it out of necessity. He does it to drive home his excellent reporting. It started in February when he coined "Deal Zone" while out-reporting Adrian Wojnarowski on the Ben Simmons-James Harden deal.

Now why would he do that?

Because he's Windy. By far the most entertaining NBA insider in the game today. Windhorst knew the Utah Jazz were up to something, but couldn't report it, so he started vamping on First Take. It was amazing to watch and multiple images became lasting memes. But more importantly, he was right! The Jazz traded Rudy Gobert later that day and then Donovan Mitchell two months later. All those funny hand motions were Windhorst saying look at me something crazy is about to happen. And then it did. It was one of the most memorable sports media moments of 2022.
Lifetime Achievement Award -- Dick Vitale
We have no problem getting personal. It was inspiring and truly special to be welcomed in by Dick Vitale. To be the recipient of hopeful texts chronicling his progress as he fought back against cancer and returned to the microphone. Of all the things he's done in his long and storied career, this, and his tireless work helping children, will be his true legacy.

All of this came with a predicted outpouring of support from everyone who has been touched in some way by Vitale. One of the few personalities who feels like part of the family — even if it's the loud uncle — there's a connectivity there that can be felt down to the core. Ask around and there's a common refrain. That he's the same person when the red light is off. A force of personality that will never be replicated.

Many euphoric years remain to hear him. The game and sport changes but Dick Vitale does not. We can think of no one who deserves this more. He's devoted his life to battling against pediatric cancer and is the perfect flag-bearer in that fight, never tiring or losing an ounce of optimism.