5 Replacements For Shannon Sharpe on 'Undisputed'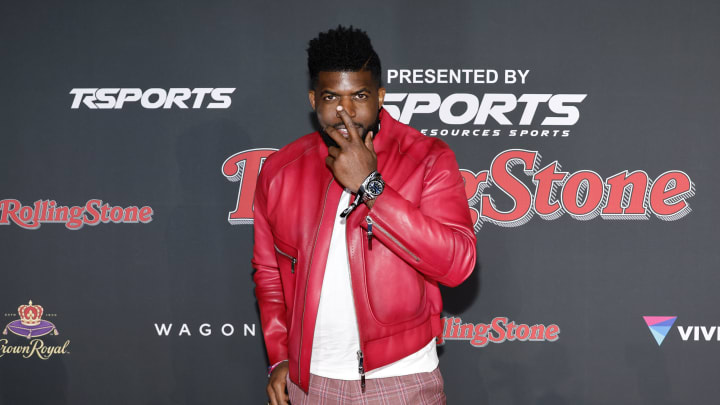 Mike Coppola/GettyImages
Our old friend Ryan Glasspiegel broke some news last night in revealing Shannon Sharpe is moving on from Undisputed and Fox Sports. This ends a six-year on-screen relationship with Skip Bayless and leaves one of the marquee names in this industry without a sparring partner. Assuming the show continues as is and they don't give Bayless a solo vehicle or pivot to a different format to showcase his unique talents.
It will be a tall task because Sharpe was — no matter what you may think of two people passionately arguing about sports like that before lunchtime — exceptional in the role. Without any inside knowledge, and based only on vibes, here are five candidates
Emmanuel Acho
If pressed, this is who we'd choose as leader in the clubhouse. Acho has been rising for several years now and is more than ready to step into the network's No. 1 debate show and hold his own with Bayless. It would allow them to keep the same balance of pundit vs. former player and the man knows how to pontificate. Of course, pulling him off Speak, which has established itself as a really solid block in the afternoon, would be a major consideration, as it would be with a few other options. But if we're to believe FOX will look internally, there's no stronger candidate.
LeSean McCoy
Acho's partner on Speak has made it his business to generate big opinion and generate conflict. What more could someone ask for? He's another former player who can bring the perspective of being between the hashmarks and get under Bayless' skin.
Nick Wright
Perhaps the most intriguing choice because it would create the best show, we'll call this one a longshot for the simple reason that FOX should be building around Wright. Him leaving First Things First would leave that property quite lacking and honestly, he deserves a solo vehicle if they're going to make a change.
Joy Taylor
Yet another Speak host who would be great at the gig and create an entirely new dynamic. The problem is that she seems entirely too reasonable for the type of circus Undisputed is trying to create.
Jason McIntyre
Taylor's successor as Colin Cowherd's Ed McMahon, McIntyre has been steadily adding to his portfolio and his move wouldn't create as large a ripple effect across the programming universe. Obviously this is the one we're most rooting for because what an American story that would be. One day he's writing blog posts on this website and the next he's trying to smudge Skip's Nikes. Dream big, kids.