Donald Trump Argues CNN Fired Chris Licht Because He Got Great Ratings
Trump presented voters with more fake news during a speech on Tuesday.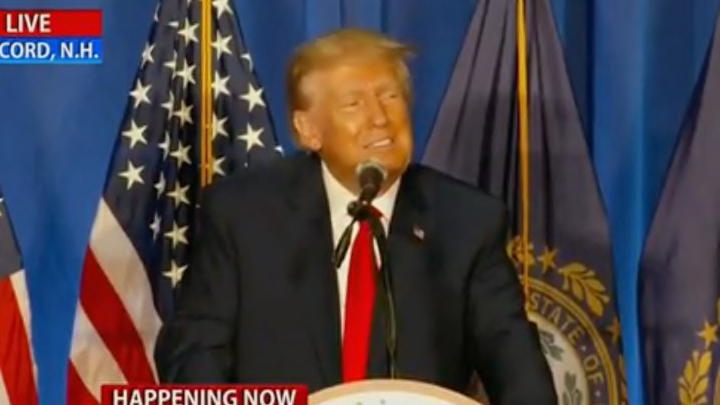 Donald Trump is speaking to any audience he can find at this point. On Tuesday afternoon he spoke to the Federation of Republican Women in Concord, New Hampshire, where he was talking about The Apprentice, which turned into a rant about CNN.
Trump started by saying he got Jeff Zucker his job at CNN, "but it took too long to fire him." He then started talking about his town hall, calling it a "ratings bonanza."
"They fired the head of CNN and he had the highest rated show in 11 years. It's supposed to work the opposite. This world is really screwy. Open borders. No voter ID. Fire the guy who just got great ratings. They fired him because he got great ratings."
Chris Licht was not fired because he got great ratings. In fact, ratings were down across the board at CNN. And there were plenty of other issues that led to him being fired in Central Park following an embarrassing profile in The Atlantic.
While Trump's CNN townhall did good numbers, it was not their best anything in 11 years. Approximately 3.3 million viewers tuned in to watch Trump call Kaitlan Collins a "nasty person," which was four-times the eyeballs CNN usually gets in the 8 p.m. timeslot. However, the numbers were not as good as a 2016 town hall with Joe Biden that drew 3.4 million viewers. Or any of Trump's town halls on Fox News back in 2016 according to Axios.