Skip Bayless Issued Clarification on Damar Hamlin Tweet After Boss Called Him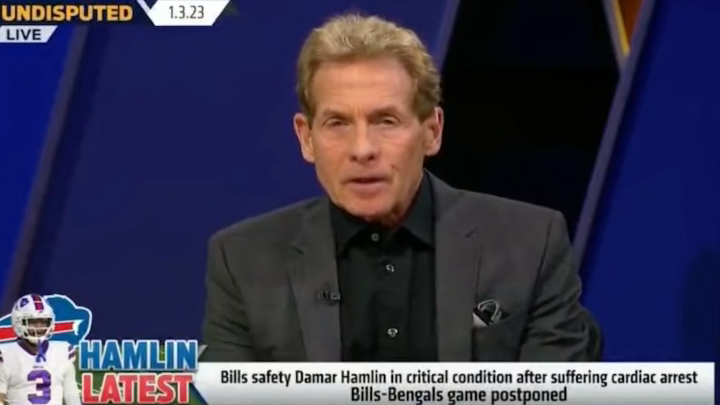 Skip Bayless /
Last night's terrifying situation involving Damar Hamlin rocked the sports world. It also led to Skip Bayless receiving a boatload of criticism again. Bayless tweeted out his thoughts about potentially canceling the Cincinnati Bengals-Buffalo Bills game in a manner that many found to be quite insensitive and let him know in no uncertain terms how they felt.
Bayless attempted to explain the tweet on Tuesday's edition of Undisputed. He did so alone; co-host Shannon Sharpe was absent from the show for reasons that were not announced. Bayless said he felt the tweet was misconstrued or misinterpreted, that he was just trying to put himself into the NFL's shoes and try to guess what they would do looking at it from a league perspective. He did not realize the backlash was as strong as it was until his boss at Fox Sports called him and suggested he issue a clarification on what, exactly, he was trying to say. Starting at the 9:20 mark below:
And here is the clarification tweet itself:
It is always noteworthy when a higher-up feels the need to reign in a network personality and even more so when that personality is willing to openly admit what happened on television. A clarification was obviously necessary but anybody hoping for an outright apology from Bayless shouldn't hold their breath, if the video above is any evidence.