Colin Cowherd Warns We Might Have to Wait Even Longer for Tom Brady to Join Fox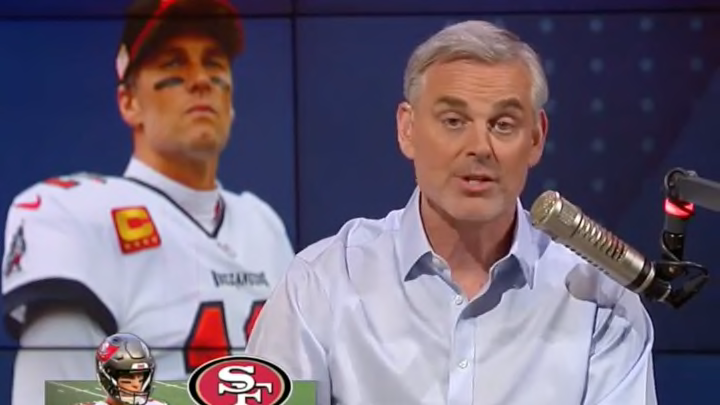 The plan is for Tom Brady to eventually start doing some work for Fox Sports and receive the largest contract in broadcasting history as compensation. It won't be this year as the seven-time Super Bowl winner focuses on his podcast with Jim Gray and chasing a kitten around his home. And it may not be ... the year after that?
On his show yesterday, Colin Cowherd offered up the possibility that those waiting for Brady to saddle up in a booth or studio will have to continue to wait as rumors about an NFL return bubble to the surface.
"Somebody I trust outside of this building told me a couple weeks ago, 'I don't think Tom Brady's going to be a broadcaster any time soon. I think he wants to play,'" Cowherd said. "Brady set a couple of different records last year, attempts and completions, at 45-years old. So a lot of people limp to the end; Elway didn't, Derek Jeter didn't, Kobe Bryant scored 61 in his last game as a Laker."
Delicious. What a storyline a 46- or 47-year-old quarterback would be. What drama Brady going full Ross Perot and jumping in and out of the race would provide. And if that reference is too old for you, rest easy in the knowledge that Brady himself would both understand and appreciate it.
Ever since this deal was announced, we have been, let's just say, extraordinarily cautious in setting expectations. Scuttlebutt that Brady would be part of Fox's recent Super Bowl coverage was always a pipe dream. If there was an over-under for years between Andrew Marchand reporting the astronomic figure and Touchdown Tom becoming Telestrator Tom, we'd confidently hammer the over. A few of us might actually think he'll never do it.
Look, even if there isn't a second NFL comeback, strange things can happen when a person takes a gap year. They go to Europe and fall in love with the walkable cities and never return. They get super into jam bands and realize they aren't too old to join Greenpeace.
Grab a protein bar or a Snickers and strap in because we're going to be doing this song and dance for the foreseeable future.