Shannon Sharpe, Skip Bayless Open 'Undisputed' With Intense, Awkward Exchange Over Damar Hamlin Tweet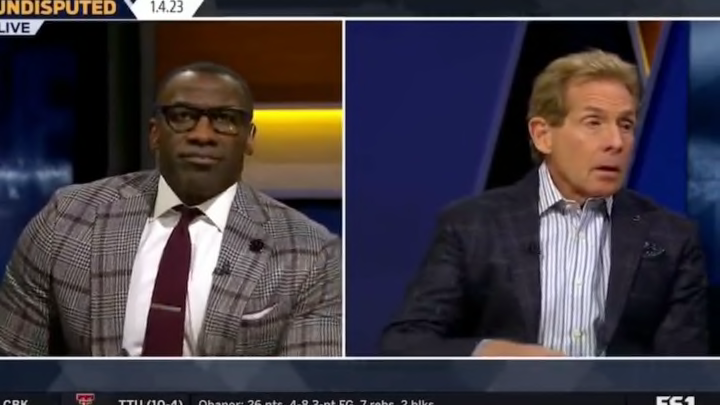 Skip Bayless and Shannon Sharpe /
Shannon Sharpe missed yesterday's episode of Undisputed, leaving Skip Bayless to host the show alone and explain what he was thinking when he sent out his controversial Damar Hamlin tweet. Bayless did not apologize and instead argued it was misconstrued. Reports emerged afterwards suggesting Sharpe sat out from the show yesterday specifically because he was unhappy about his co-host's tweet.
Sharpe returned to Undisputed today and immediately started off the show by trying to explain why he was absent yesterday. Things almost immediately devolved into an intense on-air exchange between Sharpe and Bayless after Sharpe suggested Bayless take the tweet down. Bayless took offense to that idea and the two bickered back-and-forth before Sharpe abruptly told host Jen Hale to just move on.
It was really uncomfortable.
There's clearly something going on here. Sharpe was going to nip it in the bud at the top of the hour and Bayless could not help himself, interrupting as soon as he disagreed. It seems the incidents over the last few months were indicative of something more than cordial workplace disagreement between the two coworkers.
And there are still nearly three hours to go in the show! The fireworks may just be getting started.