Latest Golf Leads
Bryson DeChambeau's Act Is Tired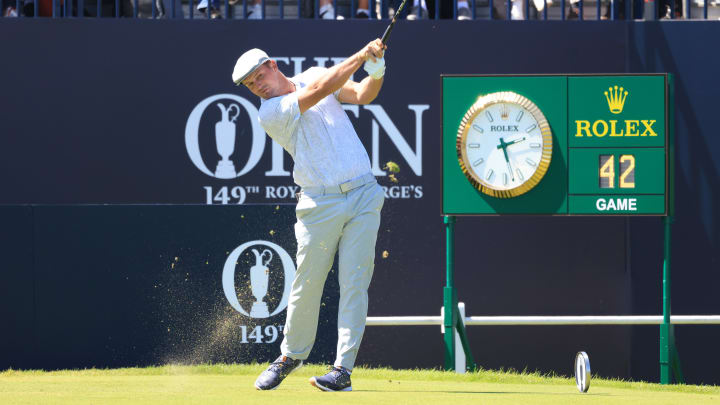 The 149th Open - Day Two / Chris Trotman/Getty Images
Bryson DeChambeau made headlines for all the wrong reasons on Thursday, blaming his equipment for a disappointing opening round at the Open Championship. After turning in a 1-over-par 71, the 2020 U.S. Open champ claimed his driver "sucks" before eventually apologizing.
This was just the latest example of DeChambeau being unbearable. A player who could be incredibly fun can't seem to have any on the course or off of it. His attitude is awful and he has absolutely no self-awareness. His entire schtick, which was kind of quirky a year ago, has gotten tired.
After the COVID-19 pandemic shut down golf last year, DeChambeau went to work. He gained a significant amount of bulk and when the tour resumed, he showed up blasting drives that left onlookers stunned. I wanted to like him. He was a crazy man who gained weight so he could hit bombs and shrink courses. He basically made himself into Happy Gilmore. A guy like that should be a ton of fun. DeChambeau is anything but.
While squeezing into shirts that are far too small for his new frame, DeChambeau has argued with rules officials, confronted a cameraman for doing his job, had spectators thrown out of tournaments, blamed his poor performance at the Masters on his caddie, broke up with his caddie, and continued a feud with Brooks Koepka that he's definitely losing. There is absolutely nothing likable about this guy. Anyone who wears a flat cap unironically should never take themselves this seriously.
Other than close relatives, I'm not sure DeChambeau has any actual fans. He's fully drifted into Patrick Reed territory where everyone is just waiting to be annoyed by him again.
There was so much potential for DeChambeau to be a fan favorite. I mean, he can do things like this:
And he's actually good. He won the 2020 U.S. Open by six strokes and has three total wins since bulking up. But for every good thing he's done there are a dozen meltdowns, screw-ups or instances where he's blamed someone or something else for his troubles.
DeChambeau should be one of the most popular guys on tour, instead he's a pariah and it's all because of his wretched attitude.