Jeff Passan's Twitter Account Hacked Amidst MLB Labor Negotiations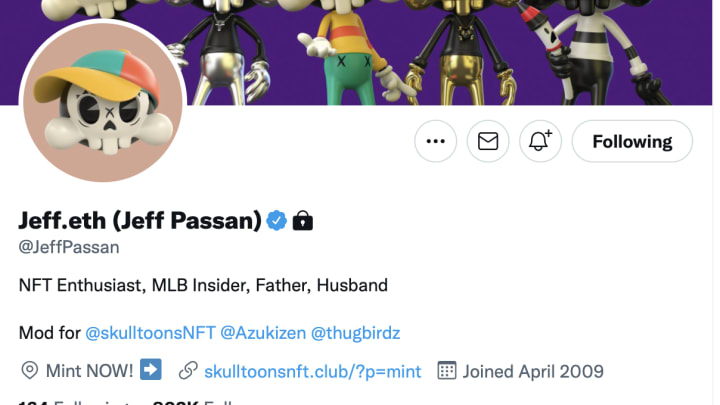 Jeff Passan /
Negotiations between MLB and the MLBPA continue in earnest this week as the start of the regular season continues to be pushed back. The last few days have suggested there is some momentum towards a deal and on Thursday the two sides agreed to extend negotiations regarding an international draft to a July deadline, which counts as progress.
Everybody is closely monitoring MLB insider Twitter accounts for the news they want to hear. And everybody got excited for a brief moment when Jeff Passan began tweeting a lot on Thursday morning-- but it turns out it wasn't Passan tweeting at all. Probably.
Around noon, Passan changed his profile name, picture, and bio and began to aggressively retweet an NFT/cryptocurrency account called Skulltoons. It quickly became clear that Passan's account had been compromised. Above you see the changed profile, and below you'll find screenshots of some of the retweets.
Passan's last real tweet was about the international draft. Afterwards, his account retweeted Skulltoons a total of eight times.
The account then tweeted as Passan and claimed he had partnered up with SkulltoonsNFT to organize a giveaway. The tweet was pinned to his profile.
In a puzzling development, the SkulltoonsNFT account tweeted that they did not hack Passan and they are not affiliated with him in any way.
Real bizarre situation. Regardless, it's tough luck for Passan. Anybody who's had their account hacked knows how terrible of an experience it is and how damaging it can be. Hopefully he recovers it soon.