10 Nikola Jokic Facts to Fully Jokerfy You During the NBA Finals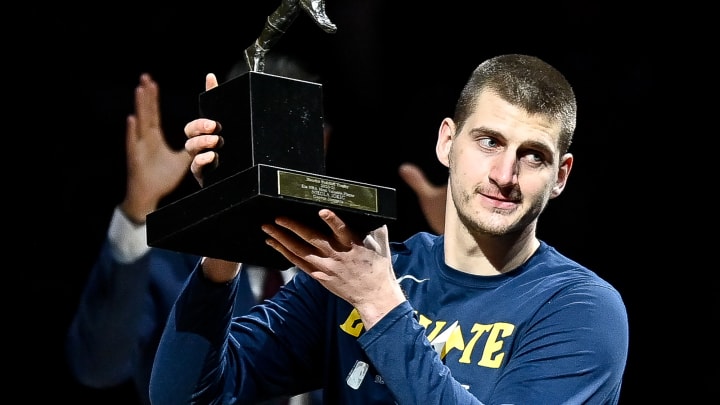 Phoenix Suns v Denver Nuggets - Game Three / Dustin Bradford/GettyImages
Nikola Jokic is a rare star basketball player in that no one who watches or covers the NBA has ever actually seen him play. He's won two MVPs in the last three seasons, but everyone still seems surprised by how good he is, much to the chagrin of Denver Nuggets fans and coaches. With that in mind, we've put together this crash course in Jokic so that you sound knowledgable around the watercooler and don't get chastised by the regulars at Shotgun Willie's.
So here are ten Nikola Jokic facts that will properly Jokerfy you for the Finals.
Jokic Was Selected During a Taco Bell Ad
Nikola Jokic was taken with the 41st pick in the 2014 NBA Draft. To give you an idea of how unheralded the future MVP was a decade ago, just watch this Taco Bell ad that ran on ESPN while the pick was announced.
'Jokic or Nurkic' Was an Actual Debate in Denver
After being drafted by the Nuggets, Jokic spent one more season in Serbia before coming to the NBA. As a rookie Jokic played 21 minutes a game and averaged 10 points, 7 rebounds, and 2.4 assists. Jokic ended up starting 55 games, but the Nuggets also had another serviceable big man from the '14 Draft in Jusuf Nurkic. There was a time when the two big men were putting up similar numbers per 36 minutes and there were blog posts with titles like "The Denver Nuggets need to choose between Nikola Jokic and Jusuf Nurkic." Ultimately, Mike Malone chose Jokic and Nurkic demanded a trade.
Nikola Jokic: Wife Guy
Nikola Jokic married his longtime girlfriend Natalija in October 2020. According to People, they have been together since they were teenagers and she moved to Denver with him when he joined the Nuggets. They now have a daughter named Ognjena.
Jokic Wears His Wedding Ring on His Shoes During Games
See? Told you he was a wife guy. Either that or he just doesn't want to lose his ring.
Jokic's Ring Celebration
Jokic has a special celebration he does with his daughter where they both point to their ring finger after games. Some heartless people have suggested they are taunting the basketball gods by doing this while others think this is simply adorable.
Nikola Jokic Has a History of Beef With the Miami Heat
In 2021 Jokic was ejected from a game against the Miami Heat after he hit Markieff Morris with a cheap shot in retaliation for a flagrant foul. Both teams had to be separated and the result was the infamous picture of the entire Heat team trying to get to the Nuggets locker room.
Following the rematch a few weeks later, Jokic said he was unbothered by the Miami fans' boos and went out partying with his brothers to celebrate the win. Oh yeah...
Nikola Jokic Has Two Terrifying Brothers
Strahinja and Nemanja Jokic are Nikola Jokic's older brothers. They are both large men. After Marcus Morris tweeted about the incident between Jokic and Markieff, the Jokic brothers created a Twitter account just to tell him to move on. They are huge and they are at every game.
They even appeared to taunt Jack Nicholson during the Western Conference Finals.
Nikola Jokic Loves Horses
Jokic owns a small stable of horses in his hometown of Sombor, Serbia. He inherited his love of harness racing form his father. If the Nuggets win, you will see video of the Larry O'Brien trophy being transported by a Serbian horse.
Jokice One of Very Few Active Players to Ever Push a Team Owner
Earlier this postseason Jokic did that annoying thing where he tried to inbound the ball really quickly after the whistle had blown. In the process, he got into a physical confrontation with new Phoenix Suns owner Mat Ishbia. If any other players have ever pushed an owner out of the way, it probably wasn't captured on video.
One of the Best Passers Ever
Family, horses, rings... that's all nice. But have you see this dude pass the rock? He throws passes you've never seen before. Passes Steve Nash and Jason Williams would be in awe of. This year he averaged a career-high 9.8 assists per game. And he's up to 10.3 per contest in the postseason.
There's really nothing else you need to know.