Skip Bayless and Shannon Sharpe Went Off on Ja Morant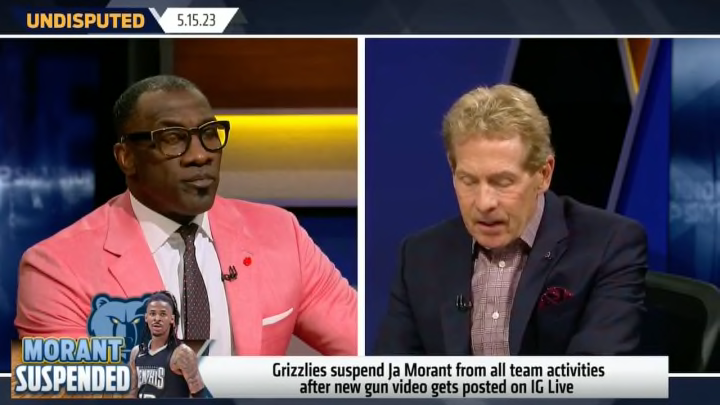 Ja Morant is the biggest story in basketball on the eve of the NBA's Conference Finals despite the fact that the Memphis Grizzlies did not make it out of the first round of the playoffs. Morant, out of nowhere, showed up on Instagram Live over the weekend holding a gun, basically reenacting the exact behavior that lead to him leaving his team for counseling in the middle of the season.
Everyone had pretty much moved on. Dillon Brooks had become the main villan on the Grizzlies' roster during their disappointing performance against the Los Angeles Lakers. Morant lost $39 million by missing out on All-NBA honors, but people were mostly paying attention to the teams still competing for a title. Especially since Morant had been quiet and seemed like he wanted to change his life.
Then he appeared on IG Live holding a gun, signaling that everything he had said was lip service. The short trip to Florida for counseling and learning to deal with stress in more productive ways? That kinda looks like bullshit now. It was simple. Don't play with guns and the Grizzlies and a bunch of companies will continue to give you lots of money. If Ja Morant went back to just being incredibly popular and arguably the most exciting player in the league, the endorsements that disappeared would probably reappear. But now what the hell is Nike and Powerade supposed to do?
Morant has already been suspended by the Grizzlies. In the offseason. And is currently looking at a lengthy suspension according to Adrian Wojnarowski. Considering he's already gone through an eight-game suspension, who knows how long that could be. Simply doubling it to 16 games would mean Ja would miss the first month of the season.
This morning on Undisputed, Shannon Sharpe and Skip Bayless both took lengthy runs at Morant. First, Sharpe, fired up and under the influence of a Celtics win, was angry. Upset with the stupidity and hypocrisy. Bayless just let him talk for eight minutes, doing little more than nodding and making sounds of agreement.
When Sharpe was done, Bayless expressed complete disappointment and recapped all of Morant's previous incidents.
It's baffling that Morant would make this choice and anger and disappointment seem like the only proper reactions. This was an extremely sincere segment for Undisputed. There was no exaggeration. Just two basketball fans venting about someone for some completely avoidable off-court issues.