Shannon Sharpe Mixes and Drinks Cocktail on 'Undisputed' in Honor of Celtics Beating Sixers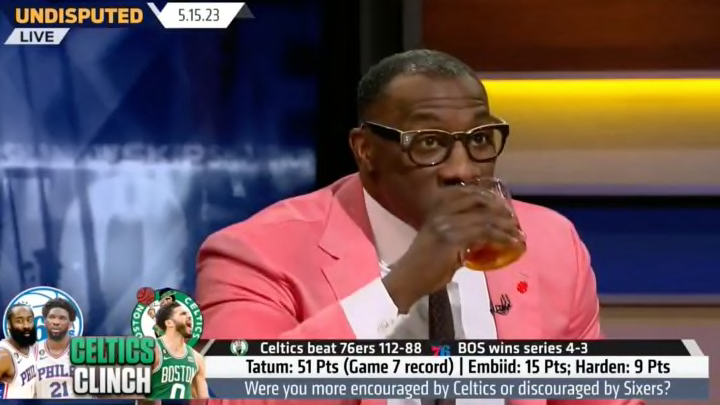 Shannon Sharpe /
On Monday Undisputed viewers were treated to a rather odd sight as Shannon Sharpe put on his bartending hat and whipped up a drink for himself during the show's A block. Even Skip Bayless seemed surprised as he tentatively asked if his co-host was mixing up apple juice. Sharpe said it was the real deal and the face he made after taking a sip suggests either a tremendous commitment to a meaningless bit or he actually got boozy at work this morning.
It would be fair, reader, if you were asking why Sharpe would do this on an otherwise unremarkable Monday. Well, our best guess is that Sharpe picked the Celtics to beat the Sixers, while Bayless went with Philly over Boston. Sharpe was proven correct thanks to Jayson Tatum's 50-burger, which would explain the presence of his jersey on set. And so Sharpe's victory lap commences after a brief mixology session.
It is unknown why this is the prediction that inspired Sharpe to bust out the booze. If anything one would guess he'd be eager to do this after LeBron James does something Bayless said he would not do. Maybe he's planning of making a habit of the victory drink at seven in the morning. God bless him if he is.