Ja Morant Immediately Started Dunking on People Again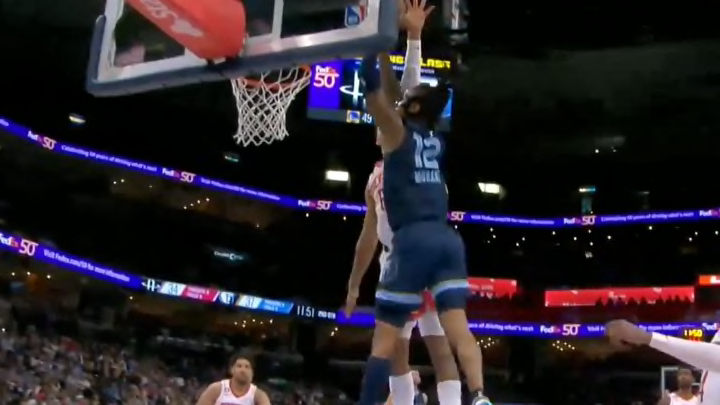 Ja Morant returned to the Memphis Grizzlies' lineup on Wednesday night, coming off the bench against the Houston Rockets. Morant checked in with a little more than three minutes remaining in the first quarter and wasted no time getting involved with two quick assists to Jaren Jackson Jr. and a block on the defensive end. And then he tried to dunk on someone. Morant finished a tough layup when he ran into Tari Eason in the air and then completed the free throw for the three point play.
Then 10-seconds into the second, he did dunk on someone. Morant put down a double-clutch dunk on Kenyon Martin Jr. for another and-one.
By the time Morant's half was done he had played 10 minutes and collected eight points, four assists, three rebounds, one block and two highlights. An immediate reminder of why everyone wanted him to get his act together and do things on a basketball court that not many people can do.
His father, Tee Morant, was courtside tonight wearing a shirt with Ja's picture and the text REDEMPTION.
Houston Rockets v Memphis Grizzlies / Justin Ford/GettyImages
It's a little early for them to start leaning on that storyline yet, but again, if Ja, the Grizzlies and the people around him are serious, there's still time for Ja Morant to write his own headline.