Bill Belichick Was in Disbelief After Brutal Loss to Colts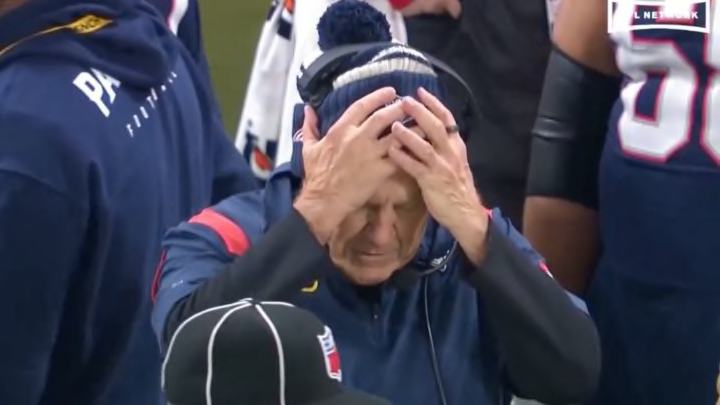 Bill Belichick /
We knew going into the season that the New England Patriots were going to be a subpar football team but nobody expected it to get this bad. Not only are the Pats 2-8 entering their bye after losing to the Indianapolis Colts in Germany, the incompetency on display in every facet of the game is borderline unbelievable to behold. Mac Jones has taken several monster steps backwards and thrown a few of the worst interceptions you'll ever see out of a professional quarterback. Players on both sides of the ball regularly make mental errors that college teams shouldn't make. There is zero sign of the "Patriot Way" and the qualities that made Bill Belichick teams great over these many years.
The Colts loss is the magnum opus for all that. A masterwork of disaster. The defense allowed 10 points and still lost. The Patriots shot themselves in the foot several times in the process. Jones threw a hilariously bad pick at the goal line. A funnier failure came earlier in the contest, when New England sold out to block a punt, did not block the punt, and lost 20 yards of field position because they didn't bother to have a return man back to field it. They even missed a 35-yard field goal because it went over the upright. An utterly catastrophic display of football, if you can even call it that.
Things came to a head in the last five minutes of the fourth quarter. Jones looked physically ill on the sideline after throwing that pick. The Patriots got the ball back down by four points with just less than two minutes to go and Belichick turned to Bailey Zappe, benching Jones yet again. Zappe managed to gain a couple first downs but then threw an interception on a fake spike to seal the loss.
Belichick was in visible disbelief afterwards and the cameras caught him running his hands over his face.
It turns out that terrible football causes more open emotion in Belichick than great football ever did. He knows what bad football looks like and is completely disgusted by it. For years it came from the opposite sideline. Now it's happening on his own team and he can't seem to come to terms with it.
He better hurry up doing that, though, because Robert Kraft is getting unhappy and the Patriots are getting worse by the week. Belichick's seat is getting hotter, as unbelievable as it is to consider. But everything about his team is rotten, from process to results. That's not something you can fix over the bye week.
Regardless of how the rest of the year plays out, this will be a lasting image from the end of Belichick's tenure with New England. Unadulterated, sheer disbelief at how bad things have gotten. It's a reflection of how everybody else feels, Patriots fans or no. How far the mighty have fallen.