Bill Belichick Looked Disgusted After Mac Jones Pick-Six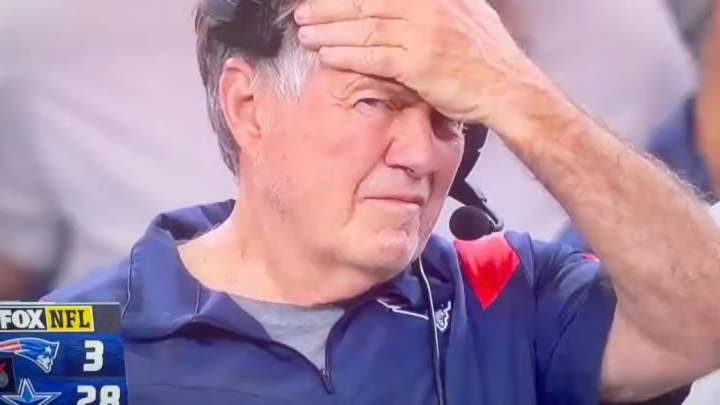 Bill Belichick /
The New England Patriots were in Dallas this afternoon to play the Cowboys and things went off the rails almost immediately for the visiting side. The Cowboys were up 10-3 after the first quarter and quickly built on their lead in the second thanks to a CeeDee Lamb touchdown and a Mac Jones fumble that was recovered and returned for a touchdown. The Pats were in a deep hole before they could blink.
Down 21-3 at the two-minute warning, New England had the ball and was trying to recover some momentum. They failed to do so because Jones threw a cross-body, cross-field pass while scrambling around that was intercepted and taken to the house.
Horrible decision, horrible throw, and a good play by the defensive back. A recipe for disaster. And no one was more disgusted by this sequence of events than Bill Belichick, who clearly was watching his ideal timeline to pass Don Shula for the most wins by a head coach in NFL history disintegrate before his eyes.
The funny thing is that there is nobody to blame but himself! Jones made that throw but he scrambled out of the pocket because the Patriots have a terrible offensive line. The terribleness of the offensive line is not offset by quality skill position players because the Patriots don't have any of those. Belichick's poor scouting and self-evaluation is catching up to him in real time.
The 28-3 scoreboard may be a familiar sight for New England fans but Tom Brady ain't walking through that door. This is the new reality for the Patriots. They are a bad team who do bad team things and good teams take them behind the woodshed before the first half is over. That is what we're witnessing here.