Bill Belichick Slams Tablet to Ground During Patriots' Loss to Raiders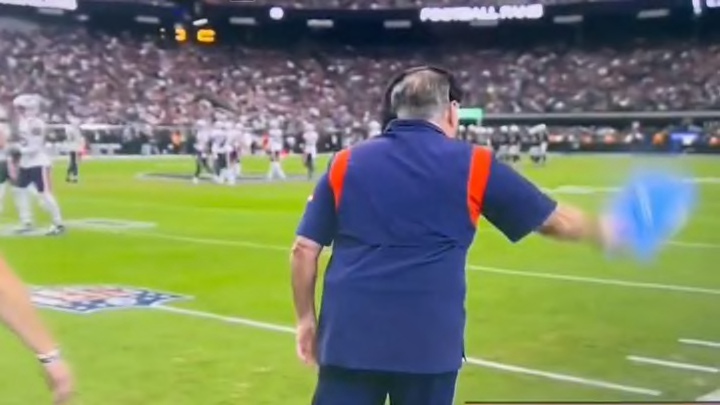 Bill Belichick /
Bill Belichick's frustration finally manifested itself on the sideline this week as the New England Patriots fumbled their way to another loss against the Las Vegas Raiders. Late in the fourth quarter with the Patriots down yet again, Belichick was shown speaking to officials on the sideline before slamming his tablet to the ground.
A rare show of visible anger from the famously stone-faced head coach.
This happened after New England scored their second TD of the day to bring the score to 19-17 about three minutes left. Which means for once we can rule out the Patriots' offense as the primary cause of Belichick's ire. It is also, of course, not the first time Belichick has taken out his frustration on a Microsoft tablet.
It is honestly surprising it took this long given New England lost by a combined score of 72-3 in the previous two weeks. During those brutal blowouts and Mac Jones collapses, Belichick was as dour as ever. Maybe it was the prospect of losing to his pupil Josh McDaniels in Las Vegas that finally broke the dam. Or perhaps the unescapable fact that his team is terrible only now sunk in with Belichick.
This short video neatly sums up the start of the 2023 Patriots season, that's for sure.