Mac Jones Looked Sick After Horrific Goal Line Interception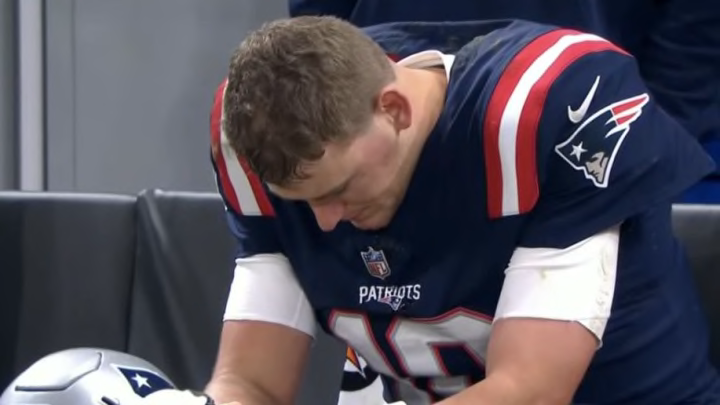 It's not hyperbolic to think that a trip to Germany and a brutal loss to Gardner Minshew is how the Bill Belichick era ends. And it's even more reasonable to think that it'll extinguish any hope the organization had for Mac Jones, who was once again not the answer in a 10-6 loss. The embattled quarterback barely threw the ball downfield all game and made a crucial mistake late as the Pats were in the red zone, driving for what could have been the game-winning score.
As far as interceptions go, this one was particularly brutal.
That's a 25-yard attempt that's underthrown by ... what, eight yards? We watch a lot of bad quarterbacking play week and week out and this still stands out as the worst of the worst.
Obviously New England offensive coordinator Bill O'Brien did not get the response he desired by giving Jones absolutely all of the business on the sideline shortly before this episode. The lesson? Scream louder and angrier the next time.
A person would have to have a pretty cold heart not to feel for Jones. The man was sitting around looking completely broken and emotional after the pick.
Belichick opted to pull Jones after the interception and turned to Bailey Zappe to go the length of the field for glory. That drive — and essentially the game — also ended with a turnover.
New England is now 2-8. Jones is down badder that he's ever been. Feels like a few unsustainable situations converging into one giant mess.