Stephen A. Smith Calls Out Travis Kelce For Calling Out the NFL Taylor Swift Obsession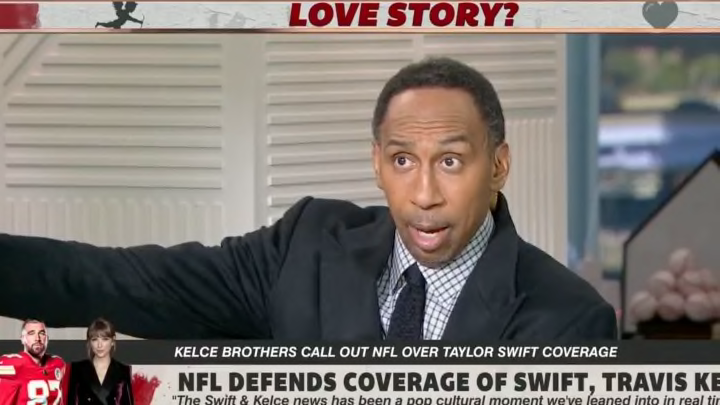 Travis Kelce and Taylor Swift. Dating. Football watching. Chiefs-Jets ratings. Eras tour. Celebrity friends. Moms. Chicken tendies. Seemingly ranch. Car rides. Concert movie. Free ads. Podcast topics. Social media conspiracies. Taylor Swift and Travis Kelce.
Today on First Take Stephen A. Smith called out Travis Kelce for criticizing the NFL in the wake of the over-saturation of the above topics in the cultural zeitgeist. And he did so first by complimenting Kelce's podcast, which he will apparently be appearing on soon.
"First of all, great, great, great podcast. New Heights. Great, phenomenal podcast. They're doing a great job. I'm supposed to be a guest on there soon actually, but that's a different subject. The point is this. Travis Kelce, stop. Bro, you did this. Not the NFL."
Kimberley Martin and Dan Orlovsky, who have not been invited on an upcoming episode of New Heights, are similarly unimpressed by Kelce's reacting to the reaction, while Molly Qerim tried to argue that maybe they didn't even know what they were getting into.
The thing is, nobody is wrong here really. Everyone is over the top on this, but the eyeballs and the clicks say that there are people are interested. No matter how dumb this can get, there are enough people who want to read and see all this that it's not going away. And the worst news is that even if they break up, Taylor Swift will still be everywhere and Travis Kelce will still be in a bunch of primetime games playing for the defending Super Bowl champions.