Where Does Skip Bayless Go From Here?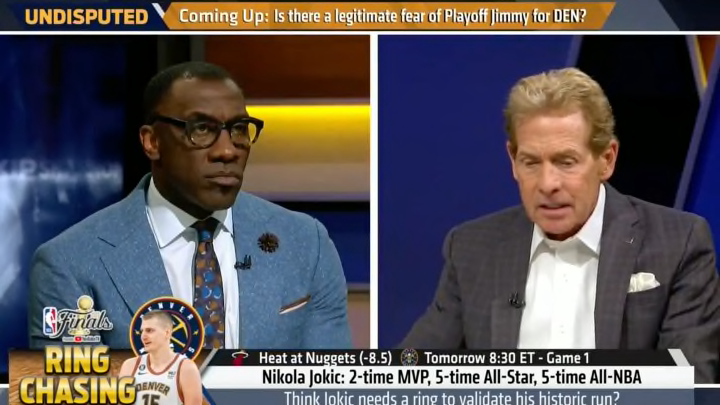 Skip Bayless and Shannon Sharpe /
On Wednesday news broke that Shannon Sharpe would be leaving Fox Sports and his chair across from Skip Bayless on Undisputed once the NBA Finals are over. It ends an eight-year run for the two heads of the network's most successful debate show, which doubled as the only true rival to ESPN's First Take in the sports-shouting sphere. In the wake of the news many will wonder where Sharpe will land or who Fox will tap to replace him, but the real question is the one posed in the headline-- where does Skip Bayless go from here?
He's not really going anywhere, of course. Sharpe was an integral part of Undisputed throughout its existence but he is ultimately replaceable. When he leaves Bayless will still be tweeting in all-caps every morning at 9:30am ET while sitting at the Undisputed desk each weekday. Fox will not be quick to abandon their marquee debate show.
But they won't find a better foil than Sharpe for Bayless. The former NFL tight end kept up with Bayless' energy, was able to roll with the punches when Bayless got crazy, and called out his most absurd takes in an equally ridiculous way. More importantly, Sharpe seemed impervious to the grinding effect the Bayless persona has on most other people. It could be day 456 of talking about LeBron's legacy and Sharpe would be ready to go another round with Bayless about Michael Jordan. Obviously Bayless' personality eventually got to Sharpe with the Damar Hamlin situation, but it took eight years. That is a talent in of itself, and one Fox may not find as easily replaceable.
Regardless of how Fox chooses to approach that, Bayless is 71 years-old and just lost his ideal debate partner. What happens next? Does Undisputed become like First Take with Bayless and Jen Hale acting the part of Stephen A. Smith and Molly Qerim? That could work in theory, but is it the smart play given Bayless isn't winning points with the younger crowd anytime soon? Would Bayless be fine giving up Undisputed and going full-time into the podcast realm or becoming a regular guest across all the network's shows?
Without Sharpe, Undisputed becomes the Skip Bayless Show, and it's worth questioning if there's an audience for that anymore. Back when the show first launched Bayless had a reputation as a journliast and a talking head capable of stirring up the masses with his takes. Now he's mostly known as the guy who draws the ire of every sports fan across the spectrum for his bad takes and the fact that he will hate on LeBron James at every opportunity. People will still watch that; we don't have reliable ratings for Undisputed but it feels safe to assume there's steady viewership given how long it's been running. It just does not feel like there's a high ceiling for a Bayless-led show anymore given how his act grinds on the audience and the simple matter of his age.
Skip Bayless is the face of Undisputed but Sharpe was a pretty significant part of it. Now he's on his way out. Bayless finds himself in limbo. And it's not clear what will happen next.