Sauce Gardner Says Late Hit on Mac Jones Was in Response to Cheap Shot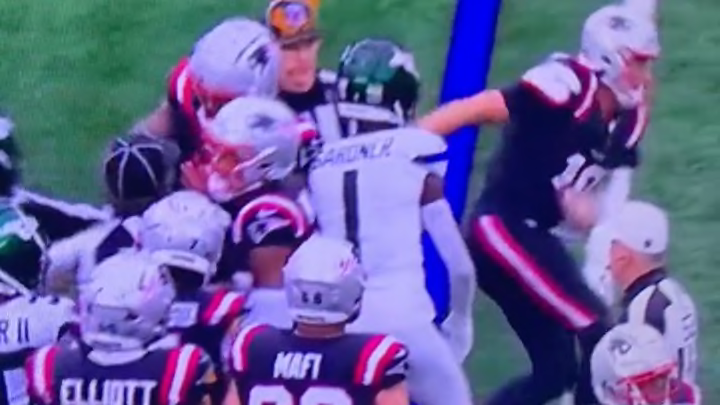 Mac Jones and Sauce Gardner /
On Sunday the New England Patriots won their 15th consecutive game against the New York Jets, 15-10. Zach Wilson was once again horrific, completing 50 percent of his passes for 157 yards and no touchdowns. The fact that he had no turnovers is considered an improvement. As you may have guessed from the score the Patriots weren't able to get much going, either, and the result was the ugliest game in a slate full of ugly games in the early window.
Those brave enough to watch until the end of the contest might've caught some extracurricular activity between Mac Jones and the Jets' defense. With about 10 minutes left in the fourth quarter the Pats were facing a third-and-1 from midfield while winning 13-3. They called a quarterback sneak. Jones got stood up at the line of scrimmage and then got thrown to the ground by New York's linebackers. There was some pushing and shoving between the two sides as Jones got up.
Then he got shoved again by Sauce Gardner. There were somehow no flags thrown on the play.
After the game, Gardner said Jones hit him "in the private parts" and that's why he reacted the way he did.
As you can see it's impossible to tell from that camera angle if Jones hit Gardner low as he was getting out of the pile. It would not be a surprise, though. In his three years in the league Jones has earned a reputation for playing dirty, dating back to his rookie season when he twisted Brian Burns' ankle while trying to prevent a fumble recovery. It's not out of the question by any means that he provoked Gardner, whether it was an attempt to get in his head or draw a flag or just a way to take out his frustration.
Unless the NFL has access to an angle we don't, nobody will be looking into Gardner's claims to potentially dole out discipline. But something to keep in mind for the next time the Pats and Jets meet.