Deshaun Watson Flung a Backwards Pass to Avoid a Sack For Some Reason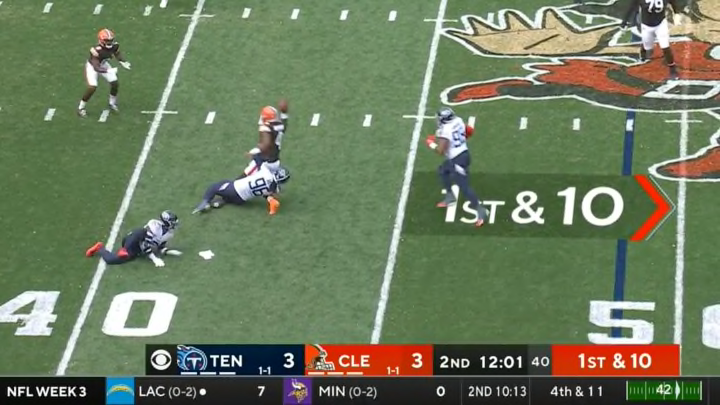 Browns /
Deshaun Watson has been really bad to start the season and in more than the usual ways. He has not been good reading defenses or making tough throws, but he's also been bizarrely prone to making terrible decisions. This was highlighted by the pair of personal foul penalties he drew against the Pittsburgh Steelers on Monday night, boneheaded plays sandwiched between extremely poor quarterback play.
Sunday brought another insane malfunction by Watson and makes one wonder if he entirely forgot how to play the position after spending nearly two full seasons sidelined thanks to his trade request and a suspension for the many sexual assault lawsuits filed against him. The Cleveland Browns couldn't get much going against the Tennessee Titans defense and the game was tied 3-3 early in the second quarter. With the ball near midfield, Watson dropped back to pass and scampered out of the pocket once the protection broke down. He eventually got wrapped up by a Titans defender, and that's when his brain broke.
For some reason, Watson thought it would be a good idea to heave the ball backwards while he was getting sacked. He wasn't throwing it to anybody in particular. There was a running back somewhere behind him but not in Watson's eyesight. He just... threw it backwards. Which, obviously, counts as a fumble. It was a truly absurd sequence that makes no sense even if you think about it really hard.
As you can see the Browns did recover the fumble so it wasn't catastrophic. But Watson managed to turn a six-yard loss into a 16-yard loss. Because... well, we have no idea.
Another terrible mistake in a season full of them for Watson.