Nick Castellanos Interrupts Memorial Day Tribute With Deep Drive to Left Field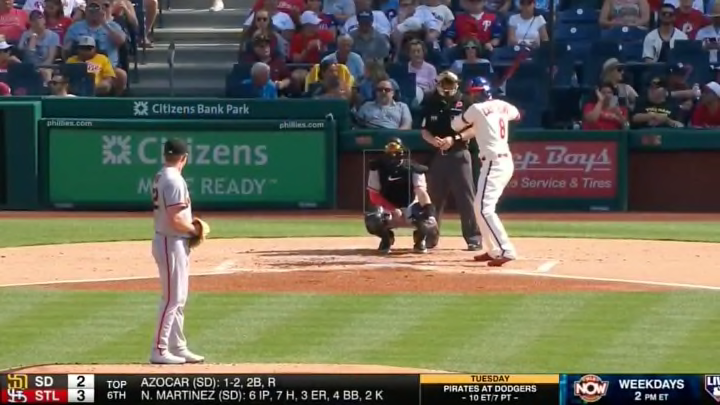 Nick Castellanos has done it again /
By far one of the funniest subplots in baseball over the last few years has been Nick Castellanos' propensity to interrupt somber moments with home runs. It started in Cincinnati a few years ago, when Thom Brennaman stopped mid-apology for saying some awful stuff on air to call a Castellanos home run. Castellanos then kept doing it. He's interrupted tributes for veterans who have passed away and explanations of DUI charges.
Castellanos' latest notch in the belt came on Memorial Day. The Phillies were hosting the Giants on the holiday and the broadcast team was just wrapping up an explanation of the gold chair at Citizen's Bank Park that will sit empty in honor of all veterans who made the ultimate sacrifice when Castellanos went deep.
It is bordering on insane how often he does this. The timing Castellanos has is supernatural. He blew past uncanny several home runs ago. At this point it simply must be attributed to whatever higher power you'd prefer.
And that's a deep drive to left...