Joe Biden Almost Fell Off Air Force One and Slid All the Way Down the Stairs Into an Open Manhole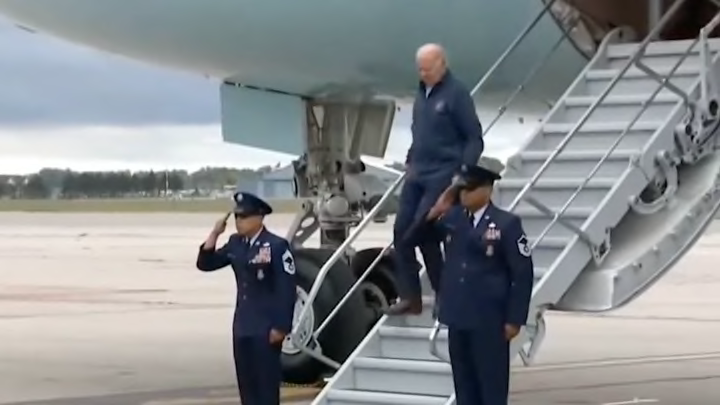 Joe Biden flew to Michigan today to join the striking United Auto Workers on the picket line. In between those events he had to exit the plane, which is something that the Biden administration has been worried about lately, fearing he would fall like he did earlier this year at the Air Force Academy graduation. According to Axios, Biden had been doing exercises to improve his balance and wearing tennis shoes more often. Yet with all eyes on his feet, Biden stumbled near the bottom of the stairs while deplaning on Tuesday.
These tennis shoes will now most certainly be fed to Biden's dogs. The stumble was a disaster worth talking about. As the New York Post put it, "Just call him Jo-slip Biden."
Another near miss during Biden's appearance came when some charlatan claimed Biden then had a mental slip-up during his very short speech delivered via megaphone at the strike.
Twitter did put a community note on the tweet to correct the information.
It really is an incredible time to alive. First Taylor Swift dates Travis Kelce and now this. Who knows what wonders await us tomorrow. Just remember to face the day with your tennis shoes tied tight. You wouldn't want to slip.