Donna Kelce Is the Most Powerful Person in Advertising, Now Sitting Next to Jake From State Farm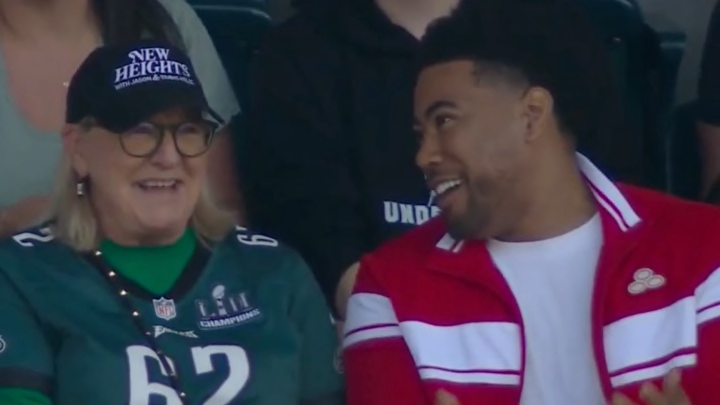 Donna Kelce and Jake from State Farm. /
Taylor Swift posted up next to Donna Kelce at last weekend's Chicago Bears-Kansas City Chiefs game and it caused a big ripple in the internet waters with some truly regrettable comments from thirsty middle-aged sportswriters pandering to the most clickable chum in the water. But that made sense because the singer is hanging out with Kelce's pass-catching son, getting paparazzied by 2004 Orange Bowl MVP Jarrett Payton and leaving in a convertible like some sort of carefully curated piece of Americana.
Her neighbor today to watch Jason Kelce and the Philadelphia Eagles play the Washington Commanders was decidedly more corporate.
Jake, from State Farm.
Very subtle marketing. This cutaway shot had to be worth $75,000 or something in free media. Someone better with money and the ephemeral nature of seeing a man in a red track jacket with the State Farm logo on it help me out, my family is starving.
Mrs. Kelce was also pushing product with a black hat featuring New Heights, her sons' podcast on it in addition to an Eagles jersey. Business is booming. Every business.
The original Jake from State Farm, who was actually named Jake and worked at State Farm, never got these perks. A man before his time.
Anyway. Buy insurance and listen to the podcast.