Angel Hernandez Had a Particularly Bad Call During Blue Jays-Rockies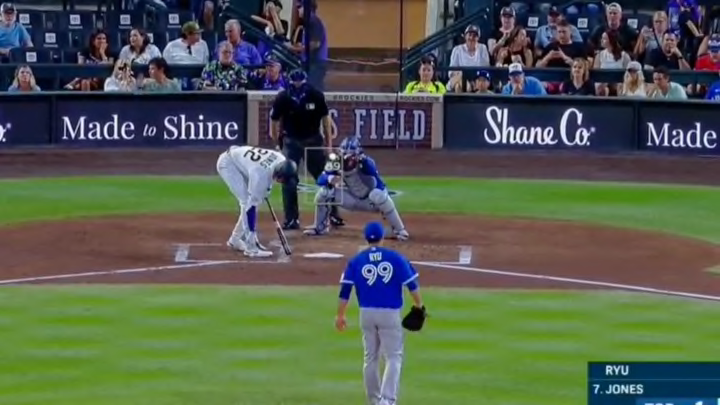 Blue Jays-Rockies /
Angel Hernandez: bad umpire. We all know this. Ourselves and many other blog sites across the wide web take great pleasure in documenting just how bad he can get. We thought we'd seen it all. But last night was an especially poor performance for Hernandez, featuring one called ball that deserves consideration as one of the worst of Hernandez's illustrious career.
Let's set the scene. The Toronto Blue Jays were visiting the Colorado Rockies on the first day of September. The game mattered a lot to the Blue Jays, who are neck and neck with the Texas Rangers for the final AL Wild Card spot. It mattered a lot less to the Rockies, who are 20 games out of the playoff race. In short, there were stakes, even if they were not high.
According to the Umpire Scorecard Twitter account (a tremendous resource), Hernandez got only 88 percent of his calls right during the contest. Those that regularly look at these scorecards know that anything under 9- percent is absolutely horrendous. He was bad all night.
But this was the worst of the bunch. In the bottom of the fourth Nolan Jones was up for Colorado with a man on first and one out. Hyun-jin Ryu was pitching and got to a full count. The righty then threw a quality pitch to the upper-right hand corner of the zone. Hernandez called it a ball. It doesn't sound terrible when describing it out loud but just look at it. Look at it!
Those TV batter boxes are not 100 percent accurate but that wasn't even close. It was a strikeout.
I mean, come on.
Brutal. I have no idea how this guy is still employed. He's been this bad forever and is only getting worse.
Tune in next week for the next post in this series because Hernandez isn't going to suddenly start making good calls.