Player Accused of Cheating at World Series of Poker After Making Ridiculous Call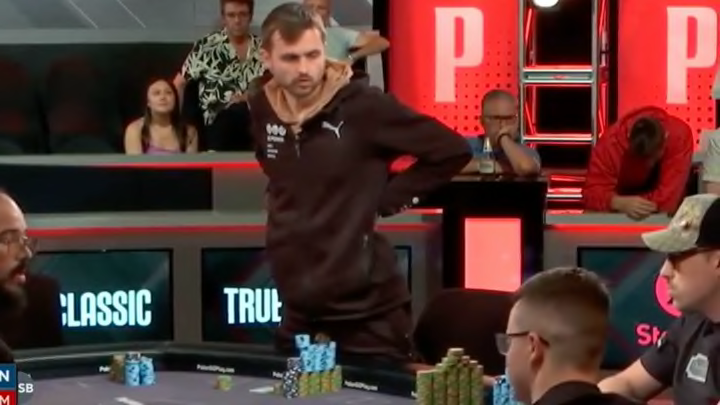 Martin Kabrhel, a professional poker player, has been accused of cheating at the World Series of Poker. Kabrhel finished third in the $250,000 buy-in Super High Roller No-Limit event on Sunday, but has drawn cheating accusations because of a couple incidents at the final table. The WSOP is investigating.
Kabrhel, from the Czech Republic, turned heads with a very questionable call that would knock out Dan Smith in sixth place. Kabrhel raised and then Smith re-raised all-in. Kabrhel thought about it briefly and then called with 10-6 suited, whch is a garbage hand, but he flopped a six and Smith and his A-Q never recovered.
Smith couldn't believe it. As he took off his microphone he said, "Good luck to most of you. I hope you get barred." He then added, "Your antics are the worst of anybody I've ever played with," before walking off.
Earlier in the evening, Kabrhel annoyed his fellow players by standing up during a hand, which they were told they could not do. Kabrhel was spoken to about standing and protested, saying he was just looking to see someone's stack.
As news of Kabrhel's performance spread, some pros - including Phil Helmuth - took to Twitter to complain about him.
Kabrhel defended himself in a Twitter thread saying, "You can accuse me of controversial manners, bad jokes, uncomfortable play, or whatever stickers you put on my autistic behavior, you can call me pain in the a** but calling me a cheater is something completely out of line."
This is not the first time we've seen someone accused of cheating after getting involved in a large pot with an objectively bad hand, but this time it came with fellow pros making specific cheating allegations.