Winners and Losers From the 2020 NBA Draft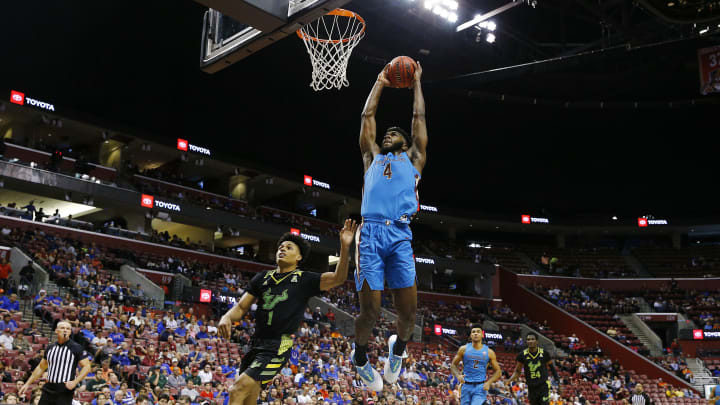 Patrick Williams / Michael Reaves/Getty Images
The 2020 NBA Draft was finally held after months of waiting last night. It was a rather subdued affair, with Adam Silver announcing the picks at the ESPN campus in Bristol while all the prospects received the news of their drafting virtually. It was, however, an entertaining night, with lots of pieces moving about and some unexpected rises and falls.
To summarize it in case you, reader, are not a person who watches a draft live, here are the biggest winners and losers from last night.
Winners
Daryl Morey / Tim Warner/Getty Images
Philadelphia 76ers
Remarkably, Daryl Morey managed to undo nearly all the damage done to Philly's roster in one night. Before the draft, he dumped Al Horford and his monster deal for only a 2025 first-round pick and got Danny Green in return. He then swung another deal mid-draft for Seth Curry, a deadeye shooter whose spacing will be invaluable next to Joel Embiid and Ben Simmons. The Sixers then picked Tyrese Maxey with their first-round pick, a highly-regarded prospect who can do everything Philadelphia needs right now-- make shots and play tough defense. Morey even picked up Isaiah Joe, one of the better shooters in the draft, with a second-round pick. They got everything they needed in one night, and it was masterful.
Patrick Williams / Don Juan Moore/Getty Images
Patrick Williams
Williams was almost entirely unknown before the draft process began. Thanks to the ridiculous physical tools he showed at Florida State (and perhaps the extra five months every team had to scout him), he became the fastest riser in the draft. He went from a fringe pick to a guaranteed first-rounder to a potential lottery selection in the blink of an eye. Most mock drafts, including my own, had Williams going No. 7 to the Detroit Pistons. Instead, in the first big shock of the draft, Williams went fourth to the Chicago Bulls. Not only is it a great fit for him personally and Chicago isn't quite in the deep throes of a rebuild that many other teams selecting in that range are, he's also making over a million dollars more than if he had gone to Detroit. It was a good day for Williams.
De'Aaron Fox / Ezra Shaw/Getty Images
Sacramento Kings
Tyrese Haliburton was not supposed to last as long as he did. Yet there the Kings were, sitting with the No. 12 overall pick, watching as he slid and slid. They nabbed him immediately once their pick came up, and he is a perfect backcourt partner for De'Aaron Fox. Haliburton is big enough to man up against shooting guards and his passing skillset makes him an excellent playmaker, either primary or secondary. He can't create his own shot very well at this point, but that isn't a problem when Fox is your running mate. This could end up being the steal of the draft.
Losers
Mitchell Robinson / Sarah Stier/Getty Images
The New York Knicks
The Knicks have done it again. What this team needed, more than anything, was a primary ballhandler and playmaker. R.J. Barrett is good at creating his own shot, but that's about it. They needed someone to set the table. Instead, they picked Obi Toppin, a bouncy undersized forward, and Immanuel Quickley, a great shooter who can do little else. Those aren't bad picks, necessarily, and both could turn out to be good players. But it's hard to feel good about it when New York had their pick of the litter when it came to point guards at No. 8 and instead added another power forward to a roster boasting Julius Randle, Kevin Knox, and Taj Gibson. Surely the fact that Toppin is repped by Sam Rose, son of current Knicks president Leon Rose, had nothing to do with this.
Big Baller Brand All-American Game / Cassy Athena/Getty Images
LaVar Ball
In a sense, LaVar is a winner because I'm writing about him right now. And the fact that his son got drafted is surely a plus. But from most other angles, it was a tough night for LaVar. LaMelo Ball did not go to a major market team whose media would be willing to spar with LaVar, he ended up in Charlotte playing for a team run by Michael Jordan. Lest we forget, LaVar has said, on multiple occasions, that he would whip Jordan on the court. If Jordan calls him out on that while his son plays in Charlotte, it could get ugly.
Tyrell Terry / John McCoy/Getty Images
Tyrell Terry
Terry was the fastest riser in this draft class right next to the aforementioned Patrick Williams. Unlike Williams, it did not result in a surprisingly high draft slot. A lot of mock drafts projected Terry to go in the late first at worst, and many had him going in the lottery. Terry ended up being the first pick of the second round. He still got drafted, which is an impressive feat considering how far off the draft boards he was when the process began, but it's quite a drop in salary. If Terry had gotten picked with the last pick of the lottery (No. 14), he would have been owed around $10 million over the course of his rookie deal. The No. 31 pick in the 2019 draft, Nicolas Claxton, signed a contract worth less than half that at $4.2 million. Assuming Terry ends up in Claxton's range, that's a tough financial blow after all the lottery hype built up around him.