Tua Tagovailoa Won't Win the Dolphins' Starting Job Outright, Which is For the Best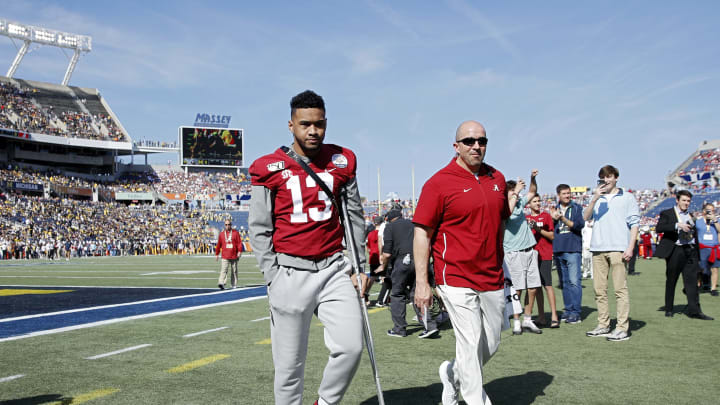 Tua Tagovailoa / Joe Robbins/Getty Images
Despite trading away any and all talent they had on the roster, the Miami Dolphins didn't end up with the first overall pick in the 2020 NFL Draft. Instead, they found themselves at No. 5, but fortunately for them, still ended up with what they hope is their quarterback of the future in Tua Tagovailoa. While their efforts to land the Alabama star didn't lack the usual dose of NFL subterfuge, it also came from a bit of luck after Tagovailoa's injury suffered in November raised enough medical red flags for him to drop.
The development may have worked out fortuitously for Miami, but now that he's on the roster, they have to confront the very-real problems that Tagovailoa's injury history represents. If anything can be said about Miami's current front office, it's that they understand how to play the long game. They'll be as cautious with their rookie QB as possible. Football is still football, and tucking him away in fear he could re-injure himself has quickly diminishing returns. If the Dolphins get him in with their team doctors before the season starts and find, despite his claims and various leaked medical reports, that he isn't totally healed, that's one thing. But eventually, he'll have a clean bill from doctors, and like every other team, they'll have to take the risk of him getting hurt in order to play him.
But there's no reason to force the issue. As Armando Salguero from the Miami Herald detailed in a recent Press Pass Podcast, Tagovailoa faces an uphill battle to win the starting job even ignoring the injury issues. Incumbent starter Ryan Fitzpatrick has worked with Dolphins offensive coordinator Chan Gailey in Buffalo, New York, and now Miami. He, as Salguero put it, knows the offense like the back of his hand. Pair that with the fact that it's difficult for a rookie quarterback to learn and adjust to an NFL playbook in normal times, much less without being able to be at the team facilities for rookie training camp, and Tagovailoa will be a few steps behind even if training camp goes on business as usual-- which seems unlikely at this juncture.
Then there's the offensive line. Miami traded away their best lineman in the form of Laremy Tunsil before the season started and were impacted accordingly. Between Josh Rosen and Fitzpatrick, the Dolphins' line gave up a total of 56 sacks last year. They added reinforcements this offseason by signing perfectly adequate center Ted Karras and drafting Austin Jackson, Robert Hunt, and Solomon Kindley. But Jackson and Hunt are developmental projects who need some tutelage before they can make a consistent impact, and Kindley is a fourth-round pick, so expectations should be tempered.
As PFF's Mike Renner points out, this is a matter of concern when you think about Tagovailoa's injury history in tandem with the downgrade in protection he's getting in leaving Alabama.
This obviously does not automatically mean that Tagovailoa is destined for the IR if Miami throws him behind their below-average offensive line from the outset. The term "injury-prone" is a weird one to throw around in the NFL because every play brings a high risk of injury for every player more than any other professional sport. But two things are undeniably true: Tagovailoa was either hurt or banged up more often than his rookie counterparts in college, and Miami's offensive line will not be one of the better groupings in the league next season.
Tagovailoa will see the field in 2020 unless previously-unreported medical issues pop up when Miami finally gets him in the building. A rebuilding team can't justify not playing the player they're pinning the future of the franchise on at some point, injury history be damned. But given everything, it would be a big surprise to see him trotting out onto the Hard Rock Stadium turf in the early going-- and that's for the best.