Brian Flores Employed Belichickian Misinformation Strategies Ahead of NFL Draft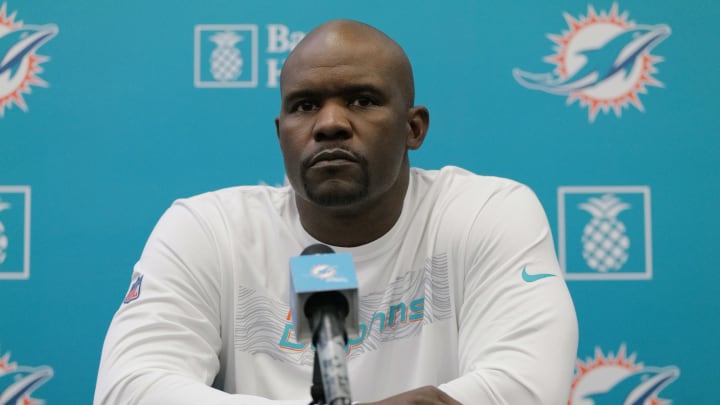 Brian Flores / Mark Brown/Getty Images
The Miami Dolphins left the 2020 NFL Draft with a restocked roster and, most importantly, their QB1 of the future in the form of Tua Tagovailoa. What will inevitably get lost in history is the fact that no one, in media or in football, really knew who the Dolphins wanted heading into the main event. There were conflicting reports abound about their desire for Tagovailoa, Justin Herbert, and even to move up to the third overall slot to pick a tackle.
After all that, they went with the most obvious and natural pick in the lefty from Alabama. From outside the building, the pre-draft process seems to have been a master class in draft smokescreening. In Albert Breer's Monday Morning QB column, he confirmed as much, sharing a tale about how head coach Brian Flores confused even some within the organization about their intentions:
" In meetings after the season ended, Dolphins coach Brian Flores joked with his staff, "I'm gonna wear a Tua [Tagovailoa] jersey on the podium at the combine, so everyone thinks we're taking him." Add that to the fact that Flores was very guarded with his feelings on Tagovailoa, and the other quarterbacks, during draft prep, and it led some in-house to put two and two together and conclude that Tagovailoa was off the table. I, for one, had heard Miami wasn't taking him, and was told that story above (it was second-hand) as anecdotal evidence of it."

- Albert Breer
Disseminating conflicting information to the media is a part of the cloak-and-dagger game for NFL front offices year-round, not just ahead of the draft. But spreading that misinformation through your staff, knowing it would eventually make its way through the cracks in the franchise to the media as a part of a longer game? Flores clearly learned something while working under Bill Belichick up in New England.
Between this tale and Flores' stoic demeanor, we may have our first true successor to the Belichick throne after failed attempts by dozens of his disciples. Obviously Flores has a lot of winning to do before we can officially dub him as such, but he's off to a better start than most of his compatriots.