Troy Aikman Openly Laughed at Deshaun Watson's Pregame Routine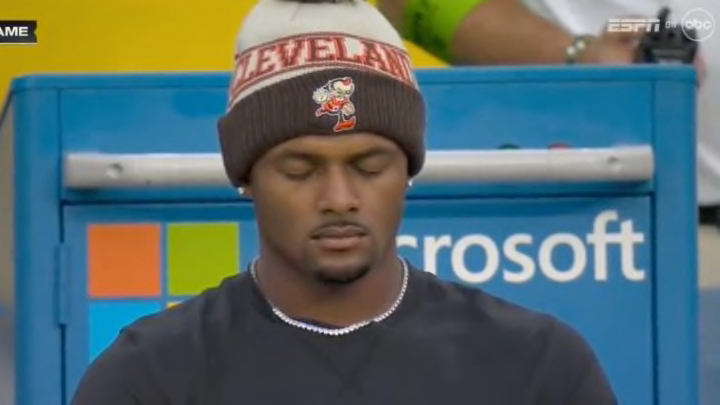 Deshaun Watson /
Deshaun Watson, still playing in the NFL despite the dozens of accusations of sexual misconduct and assault last year, did not have a good night against the Pittsburgh Steelers. He threw a pick-six on the very first play of the game and was strip-sacked for a fumble return TD in the fourth quarter that put the Steelers ahead for good. He also somehow managed to commit not just one but two personal foul penalties for grabbing facemasks of defenders.
Watson finished with 235 yards, one TD, and one interception while completing only 22 of 40 passing attempts. He had two chances to march the Browns down the field and win the game after his fumble in the fourth quarter and failed. And to add insult to injury Troy Aikman openly laughed at his pregame routine.
As the Cleveland Browns geared up for their first attempt at a game-winning drive with five minutes left in the fourth quarter, the ESPN broadcast showed Watson before the game with his eyes closed next to a trainer. Aikman explained he's working on visualizing success and did so with a straight face for 15 or so seconds before breaking down and laughing.
While it is funny to imagine Aikman mocking the routine itself it seems that the longtime broadcaster just couldn't hold in his laughter at how Watson looked while he was meditating or whatever. And it is a little amusing.
Obviously it didn't work. Nothing has worked for Watson since he returned to play last season after serving an 11-game suspension for those sexual assault accusations. And there's still three years left on his $230 million fully guaranteed contract.
Things are not great in Cleveland.