Latest NFL Leads
Tom Brady and the Tampa Bay Buccaneers Are Completely Vaccinated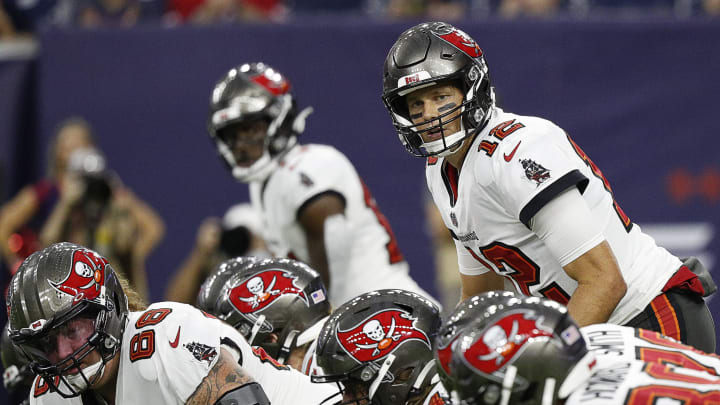 Tampa Bay Buccaneers v Houston Texans / Bob Levey/Getty Images
The Tampa Bay Buccaneers are completely vaccinated. One hundred percent. From the top of the organization to the very bottom. Every employee. Every player. Including Tom Brady. This should absolutely be the final argument against any football player who is vaccine hesitant or wants to do their own research or whatever garbage explanation they're currently using.
Tom Brady is the face of the NFL. He is a seven-time Super Bowl champion. He's 44-years old and he's still in the NFL playing at an elite level and winning games and competing for championships at this advanced age because he is doing everything his own way. Brady is famously following the TB12 Method which the New York Times once called "short on science."
Tom Brady got vaccinated. Tom Brady has never even put a strawberry in his body. In May 2020 he was selling "immunity vitamins." In June he was posting FDR quotes on Instagram while ignoring NFL COVID protocols regarding practicing during the pandemic.
If the NFL's ultimate leader and outside the box health nut is willing to get vaccinated then maybe position players with zero career postseason touchdowns should shut up and take one for the team like much smarter and more successful players have. Maybe quarterbacks who say they'll do anything should do anything.
Players on other teams going through the season unvaccinated will only help Tom Brady and the defending champions who have returned all 22 starters from last season (the Atlanta Falcons were the first and appear to be the only other team to be completely vaccinated so far).
The Tampa Bay Buccaneers should be the gold standard right now. They won the Super Bowl. They brought everyone back. They got guys like Rob Gronkowski and Antonio Brown vaccinated. They didn't have anyone quit a high profile job because of some blind declaration of "but muh freedoms!"
They all got vaccinated. They've done what's right for their team and more importantly, themselves, their families and their communities. Whatever reason they had to do the right thing, they got there. And you can be certain that neither Brady nor any of his teammates will make headlines for eating horse dewormer this season.
It's hard to win a Super Bowl and the Bucs have one less thing to worry about than most teams. It seems like this approach will deliver more desirable headlines and outcomes than going unvaccinated, but we shall see. Are you really ready to bet against Tom Brady?