Terry Bradshaw Too Distracted by Andy Reid's Girth, Appetite to Do a Good Interview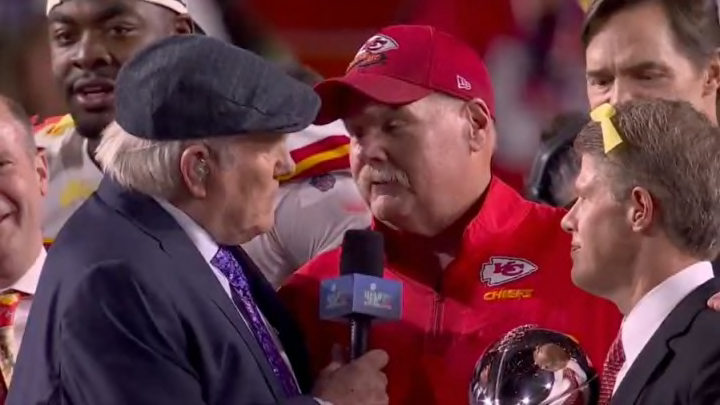 This is not going to be one of those posts where the writer gets all up in arms and calls for someone to be fired or anything crazy, so you can exhale knowing the stakes won't be that high. But it was incredibly weird that Terry Bradshaw used his time and worldwide audience during the Super Bowl LVII trophy ceremony to to repeatedly make cracks about Andy Reid's weight.
"Big guy... let me get the big guy in here. Come on, waddle over here," Bradshaw pleaded as the chaos and confetti rained down.
Again, this is minutes after the Kansas City Chiefs coach won his second Super Bowl — an iconic contest that will be known for Patrick Mahomes playing through extreme pain and for being a non-stop thrill ride — and Bradshaw is clowning on him like they did on Lardass before the pie-eating contest in Stand By Me.
Then, after Reid said whatever he said (it should be noted that precious little interesting has ever been uttered into a microphone during these things), Fox's venerable analyst bid him adieu by saying "have a cheeseburger on us."
Between those bookends, Bradshaw got the all-important answer to a question no one is asking: Reid is not retiring mid-dynasty. Which is great to know because, well, did anyone hear something to the contrary?
Whether you think any of this is a big deal, it seems a bit crazy that Michael Strahan, Erin Andrews or Tom Rinaldi are handling the trophy presentation for Fox. There are probably quite a bit of internal politics involved. But hey, they'll soon have Tom Brady and a desire to get every penny out of that investment. Whomever does it next time could improve on the bit by simply not making multiple weight-related cracks.