Ted Cruz Falls For Barstool Big Cat's Obviously Fake LA Shark Flood Tweet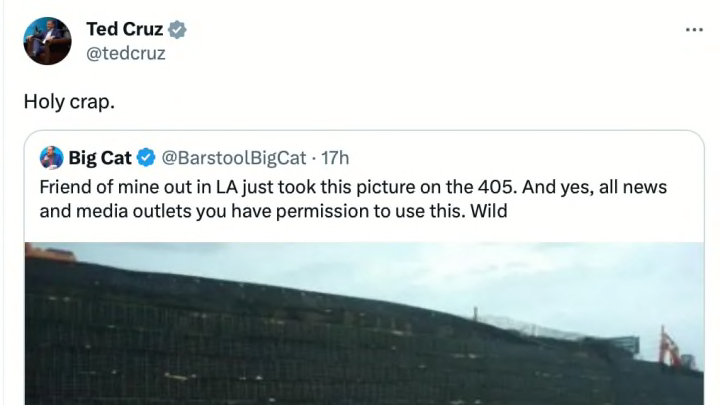 Hurricane Hilarly hit California on Sunday as it was downgraded to Tropical Storm Hilary. Still, there was enough rain to flood parts of Los Angeles, including the Dodger Stadium parking lot. It was the perfect time for a joke tweet to go viral as one person did posting video from the Earthquake! ride at Universal Studios, claiming it was a local metro station.
Dan Katz from Barstool Sports also got in on the fun, posting the picture of a shark on a flooded highway that has been making the rounds for more than a decade now whenever there's flooding anywhere. One person who was fooled by Big Cat's tweet was Ted Cruz. The Texas Senator added valuable context to the tweet saying, "Holy crap."
Eventually, someone filled Cruz in and simply added "In LA, you never know..." which surprisingly had nothing to do with his previous tweet about Kevin Sorbo being canceled.
I mean, can you imagine a more shocking collection of news in a Senator's feed? Sharks in the street and Kevin Sorbo canceled? Let's just hope both those things turn out to be fake news. Between adding comments like "holy crap" and "ridiculous" to tweets, he barely has time to promote his podcast.