Stephen A. Smith Calls Andrew Marchand's Shannon Sharpe Scoop 'Premature'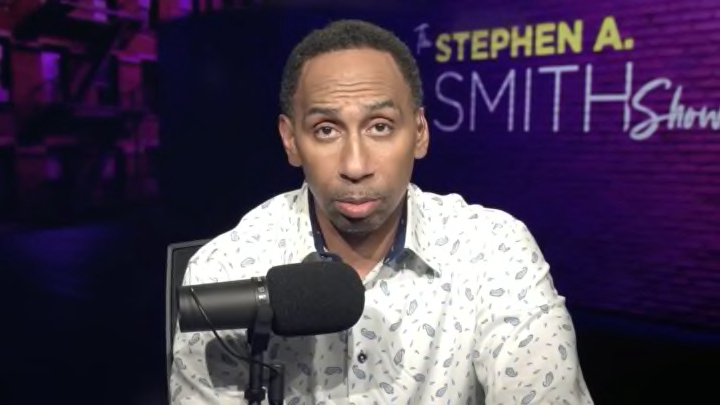 Shannon Sharpe is set to join First Take and debate Stephen A. Smith twice a week on ESPN following his public breakup with Skip Bayless, Undisputed and FOX Sports. Sharpe joining First Take was first reported by Andrew Marchand and Ryan Glasspiegel of the New York Post on Thursday afternoon. It was a story so big that Marchand had to break away from his vacation to report.
But was it premature scoopulation? According to Stephen A. Smith, it was. Smith called out Marchand on the latest edition of The Stephen A. Smith Show as featured in a clip that was published Thursday night.
"It'd be great to have him. Here's the issue. We don't. Sorry, Andrew Marchand of the New York Post! It's a bit premature. Shannon Sharpe has yet to sign on the dotted line to be a member of First Take. It has not happened yet."
First, we'd like to say sorry to our former TBL teammate Ryan Glasspiegel for not being deemed worthy of a call-out on the SAS podcast. Second, Sharpe had previously teased an announcement would be coming on Monday, which means he probably has made a decision, even if he has yet to sign on any dotted lines.
Could this be one of those things where a grand announcement was planned and the primary subjects got scooped? It's certainly not unheard of for someone to shout fake news (or put news in quotes like Stephen A. did in that tweet) only for the news to turn out to be true a few days later. And if Shapre shows up with an ESPN contract next week, that doesn't make The Post's report wrong just because of a technicality.
We're not cutting any vacations short to monitor the situation, but we'll certainly keep you updated if we hear anything.