Sodfather George Toma's Interview with Dan Le Batard Show Was Pure Insanity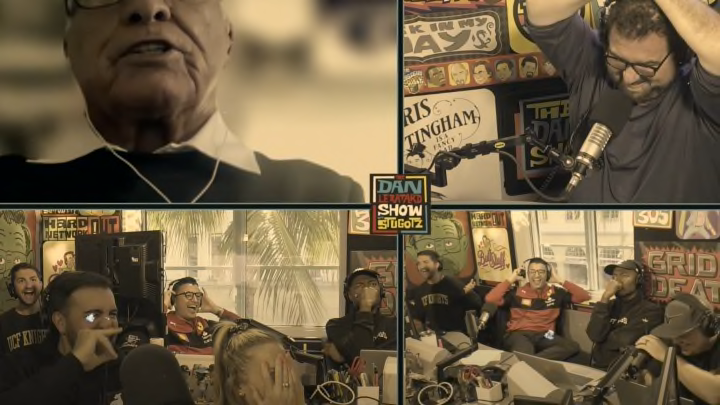 George Toma (aka "The Sodfather," aka "The God of Sod") joined the Dan Le Batard Show with Stugotz on yesterday's show and gave an interview for the ages. In doing so he helped create one of best hours the show has seen since Adam McKay and a rotating cast of other bored celebrities were performing longform bits. Because of that, and the immediately outrageous nature of the whole thing from minute one, we had to go late into the night and early into the morning debating whether this was scripted or if The Sodfather just rolls like that. We were pretty skeptical after listening on audio, yet here it all is on YouTube as part of The Oldest Show We've Ever Done, playing opener to Sister Jean, who continues to capitalize on her own 15 minutes of fame.
What you're about to see is a descent into madness. It will confuse and disorient you for a bit until you get your bearings and realize that the God of Sod has been hiding in plain sight as one of our nation's most skilled orators. That he's a no-bullshit guy who is going to tell it like it is and hasn't lost an iota of vim and vigor at age 94.
The less you know the better here so let's just stop typing. See you on the other side ...
It's really been a journey. From the moment players started slipping around during the Super Bowl to the moment everyone realized the grass dude was a Hall of Famer on his last damn job like Murtagh in Lethal Weapon to how it all sounded like a King of the Hill story line, the Sodfather has kept the pedal to the metal in the content department for two solid weeks now.
This is truly one of the more bizarre pieces of art ever painted on sports radio and sports radio-adjacent places. We're still trying to process it all over here and aren't 100 percent sure the joke is on us, but ... wow.
NFL rights holders should be doing whatever they can and be willing to pay whatever it costs to get the Sodfather in studio or as a field reporter next season. He's a once-in-a-lifetime talent.