Skip Bayless Keeps Making His Wife Record Him Throwing Away the Same Cowboys Jerseys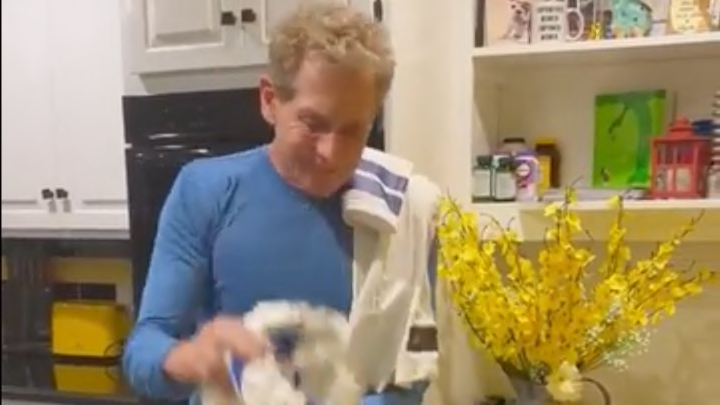 The Dallas Cowboys got blown out in a primetime game by the San Francisco 49ers on Sunday Night Football. With all eyes on the Cowboys, that meant it was actually Skip Bayless's time to shine. As soon as the game was official, Bayless emerged from the hallway off the kitchen and dramatically threw his Dak Prescott jersey in the garbage. Once his wife was recording, of course.
In Skip's defense, Prescott was 14-of-24 for 153 yards in the loss. He threw one touchdown and three interceptions. It was not pretty. It was the kind of performance that gets former players to say you suck on live television. If you are the dramatic type, it could inspire you to throw out your jersey like Skip did.
Was it just a little performative? Juding by the fact that he made his wife record it, yes. Judging by the fact that he did the exact same thing with the exact same jersey back in January, yes.
If Skip hadn't been carrying the Micah Parsons jersey you'd have no idea this was a new video. The only other thing that changed in Skip and Ernestine's kitchen in the last 10 months is the placement of a few paper products. As opposed to the time when Bayless threw out his Ezekiel Elliott jersey while wearing a blue Dak Prescott jersey in a completely different kitchen back in 2019.
The question now becomes, at what point does Skip start throwing away the Parsons jersey? How many times will he throw it away? Will he stop fishing the Dak jersey out of the trash? Stay tuned to find out. Or don't. There are a lot more important things you can do with your time instead of watch Skip Bayless throw jerseys in the garbage for content.